After installing, you will automatically be prompted to enter your License Key to activate your product. If you skipped this step, or your product is still not activated, follow the steps below:
Open your Windows ESET product. If your product is not activated, your main window will be red:



Figure 1-1
Click Use a purchased License Key. This step is not present in Version 10 ESET products.
Version 10.x: Skip to step 4.




Figure 1-3
Type or copy/paste your ESET-issued License Key into the License Key field and then click Continue. Make sure you enter the License Key exactly as it appears and include the hyphens. If you copy/paste be sure you don't accidentally select additional space around the text. Click here if you lost your License Key.
Version 10.x: Type or copy/paste your ESET-issued License Key into the License Key field, click Activate, and then skip to step 6.



Figure 1-4
Click Activate.



Figure 1-5
Click Done. You have successfully activated your product.



Figure 1-6
If activation fails with an error, see I received an activation error while installing my ESET product—what does it mean?
---
---
I have a Username and Password: My product is version 8.x and earlier


Locate your ESET-issued Username and Password, which you should have received by email after purchase or first activation of your product. If you cannot locate your Username and Password, visit the Lost License Page to have them resent.
Press Ctrl + U to open the Username and Password setup window.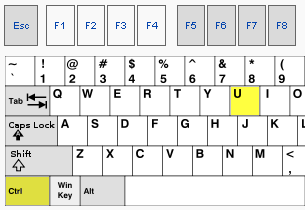 Figure 2-1
Enter your Username and Password into the appropriate fields. If your ESET settings are password-protected, you will be required to enter your settings password before reaching the screen pictured in Figure 2-2.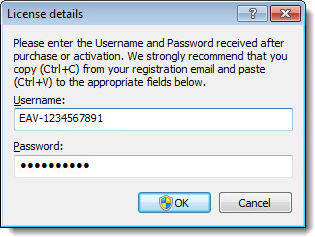 Figure 2-2
If you were successful, your ESET product will automatically begin downloading the latest virus signature database update. When the update is complete, a "Virus signature database successfully updated to version" notification will appear.

If the update fails or you receive the notification "Update information is not consistent", repeat steps 2-5.

Figure 2-4
---
Enter your activation key (8.x and earlier CD products only)
Locate your activation key, which is printed on the box that your ESET product came in.


Select Activate using an Activation Key and click Next.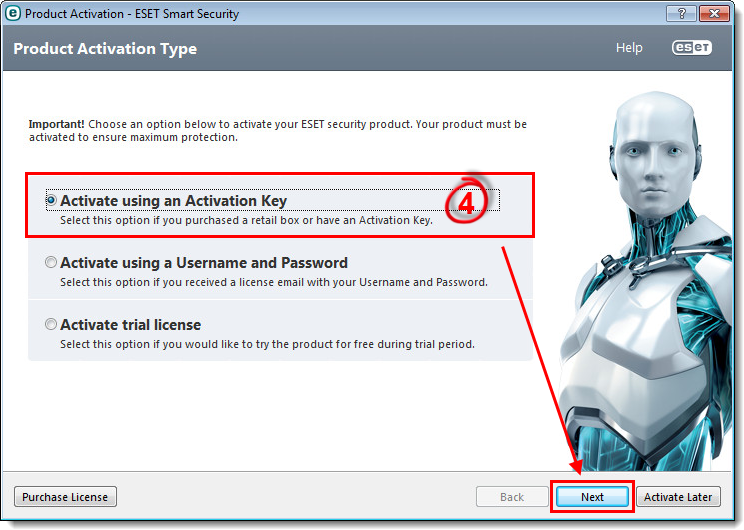 Figure 3-2
Click the image to view larger in new window
Click Finish once activation is complete.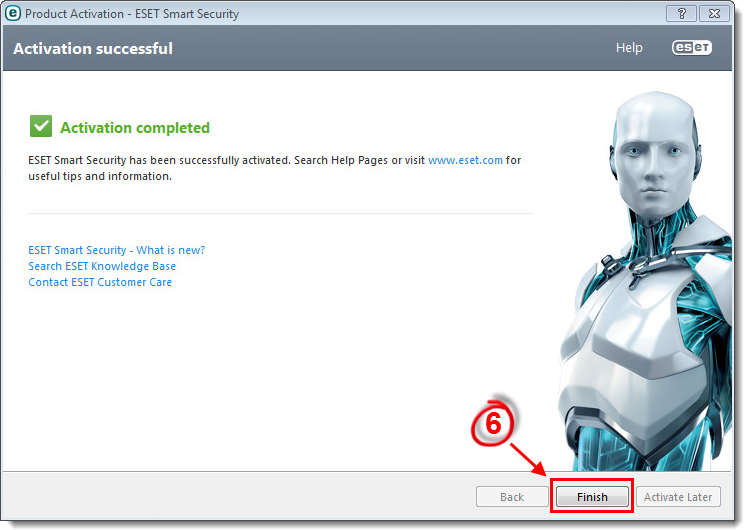 Figure 3-4
---