When upgrading from previous versions of ESET to the latest, some settings will not migrate. The following settings do not migrate from versions 7 and 8 to version 9:
License credentials (Username and Password)—In version 9 and later, a License Key is used forproduct activation.How do I get my License Key? (Home users).

User interface: Hidden notifications window—This option has been removed in version 9 and later.

Network: System integration.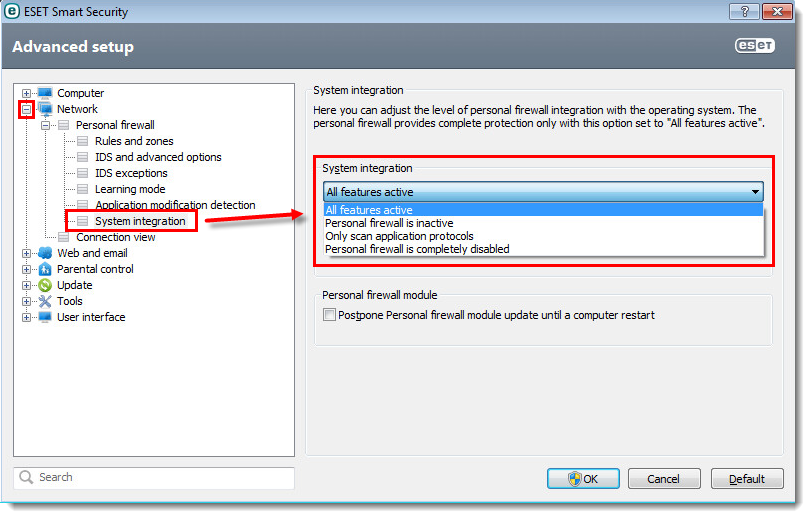 Version 7/8 System integrationsetting
Version 9 Personal Firewallsetting
Personal firewall is inactive
Only "Enable Personal firewall" is disabled
Only scan application protocols
"Network attach protection (IDS)"
and "Enable Botnet protection" are re-enabled
Personal firewall is completely disabled
The following settings are re-enabled:

Network attackprotection (IDS)
Botnet protection
Anti-Phishing protection
Web access protection
The following settings are for migrations from version 8.0.319:
Update: Update rollback—The snapshot version number may default back to previous version.

User interface: Alerts and notifications—This feature has changed in version 9 to 200 seconds.

User interface: Context menu (only scan)—The context menu option in version 9 is now onlyenable/disable.
To upgrade your program to the latest version using the Program component upgrade (PCU), click Upgrade now.
When the upgrade is complete, restart your computer. If you are experiencing issues, see Troubleshooting.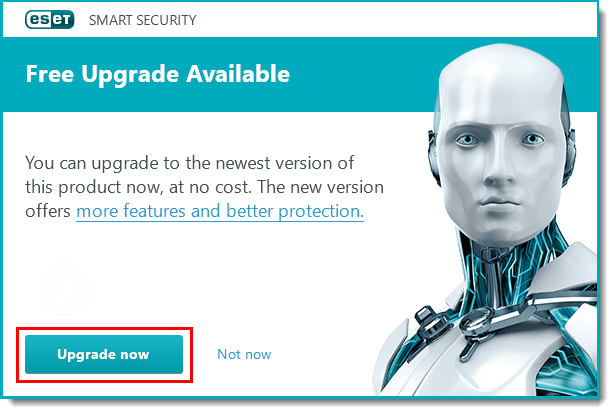 Figure 1-1
Troubleshooting
After restarting your computer, you may see Product not activated in your ESET product. If you receive this message, click Activate product and type in your License Key.How do I get my License Key?
"ESET could not be updated ​automatically"or "Product update ended with an error"

If you receive the notification "ESET NOD32 Antivirus/Smart Security could not be updated automatically" following aFree Upgrade Availablemessage, we recommend youuninstall and reinstall your ESET productto resolve this issue.
"Antivirus Protection is non-functional"

To resolve this issue,run a modules updateand then restart your computer.
If you are still unable to resolve your issue, please email ESET Technical Support.