Issue
Solution
What's new?
The latest version of ESET Online Scanner is the new generation of our well-known ESET Online Scanner. It is no longer dependent on Active X, which enables it to be completely browser-independent.
Other new features of the new Online Scanner include:
The Welcome screen offers shortcuts to Computer scan, Periodic scan settings, Full protection, and About ESET Online Scanner.
Scan types:

The Full scan scans your whole system, and all detection options will be enabled.
The Quick scan scans select files.
The Custom scan customizes your scan to the files that you select. You also have the option to detect suspicious applications, detect potentially unsafe applications, and scan archives.

Starting with ESET Online Scanner version 3 (EOS v3), the Periodic scan periodically scans your computer for free. It is a quick check of parts of your system that are often infected. The scan starts automatically, and you will be notified about it.
Scan autostart locations of programs that are started automatically when Windows starts.
Scan boot sectors.
Scan registry and clean malware surviving in the registry (for example, poweliks trojan).
Healing during a restart of the operating system and subsequent re-scan of previously infected files.
---
Install ESET Online Scanner
Double-click the .exe file you downloaded to run the installer.

Select your desired language from the drop-down menu and click Get started.

Figure 1-1
Click Yes.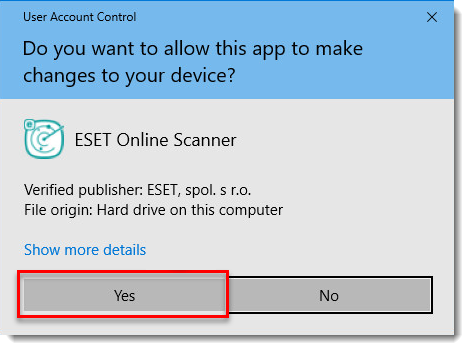 In the Terms of use screen, click Accept.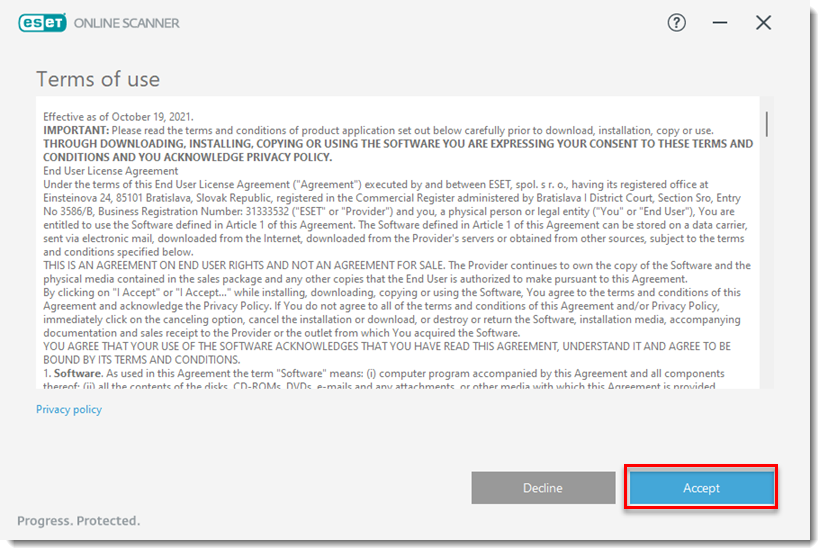 Click Get Started.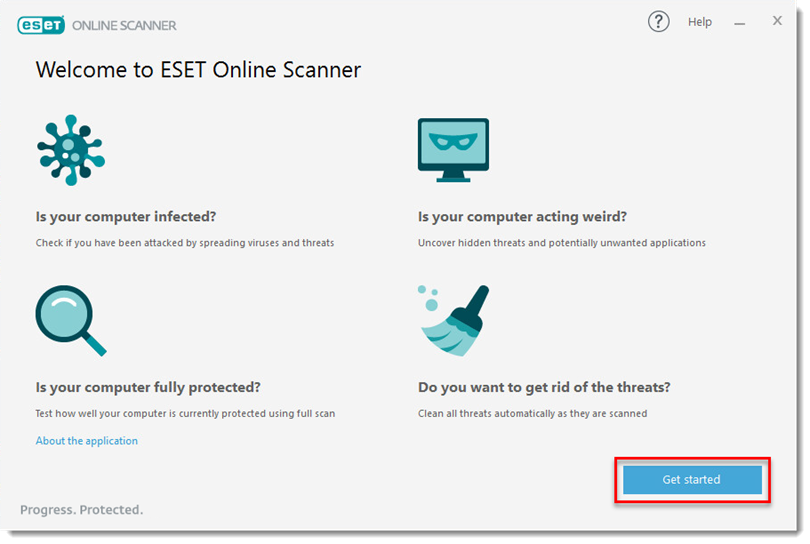 Select your preference for the Customer Experience Improvement Program and the Detection feedback system and click Continue. You can now run ESET Online Scanner.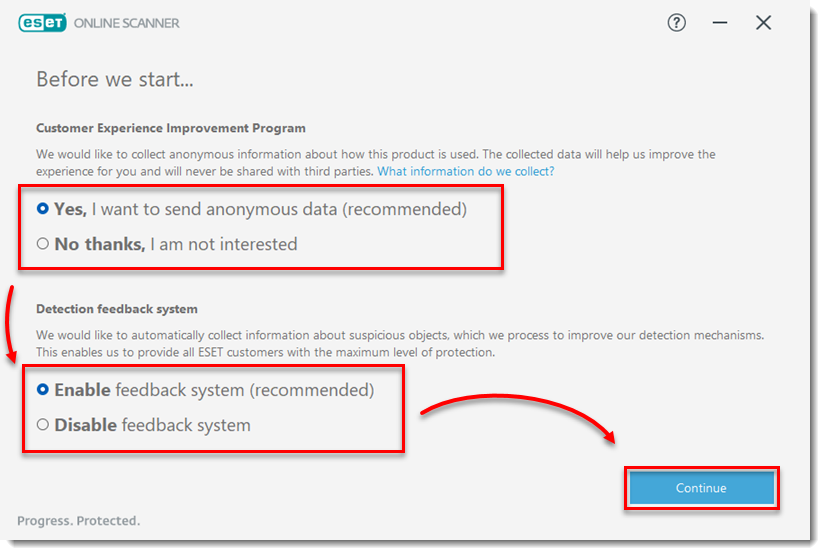 ---
Run ESET Online Scanner
If you have previously launched ESET Online Scanner, double-click the original .exe file that you downloaded. If you are continuing from the Install wizard, skip to step 3.
Click Computer scan.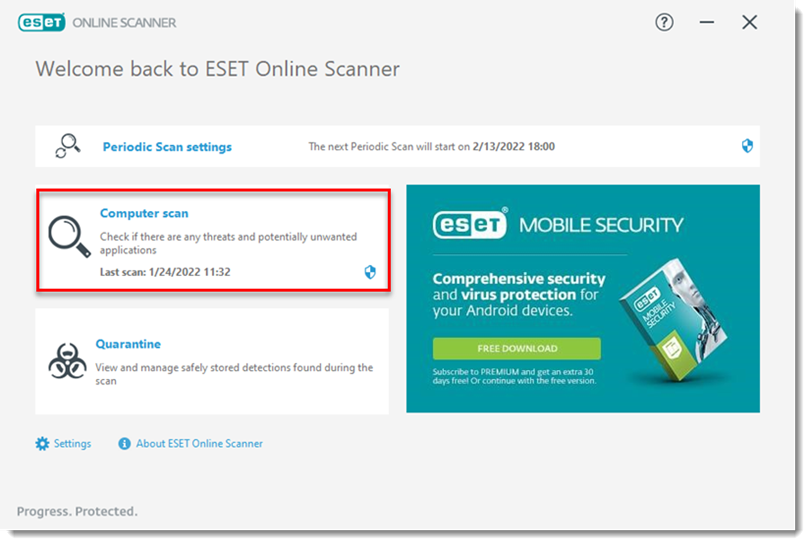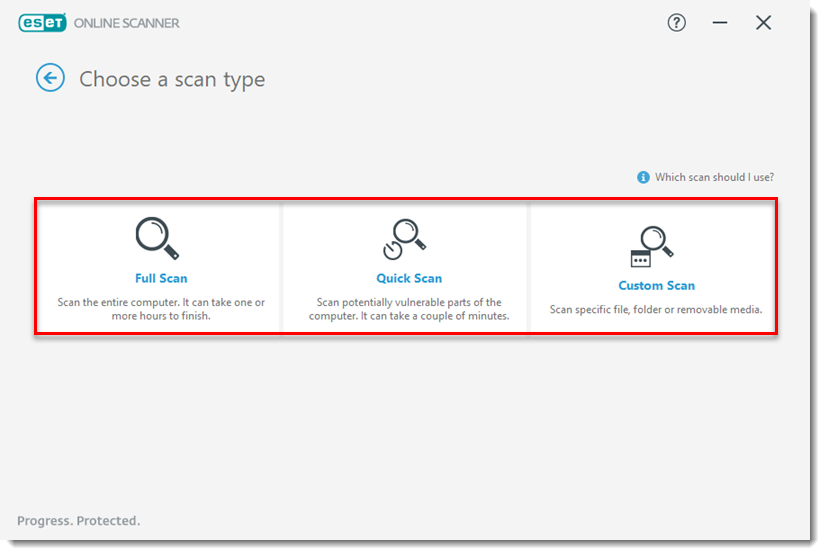 Select your preference for Detection of Potentially Unwanted Applications. Click Start scan. If you selected Custom Scan, you would select your scan targets first.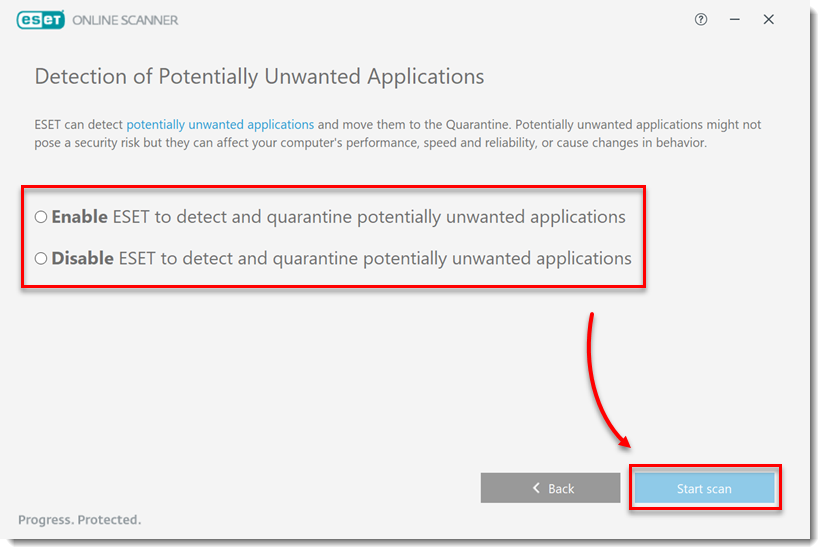 Any module updates since the last time you ran the Online Scanner will download before the scan starts.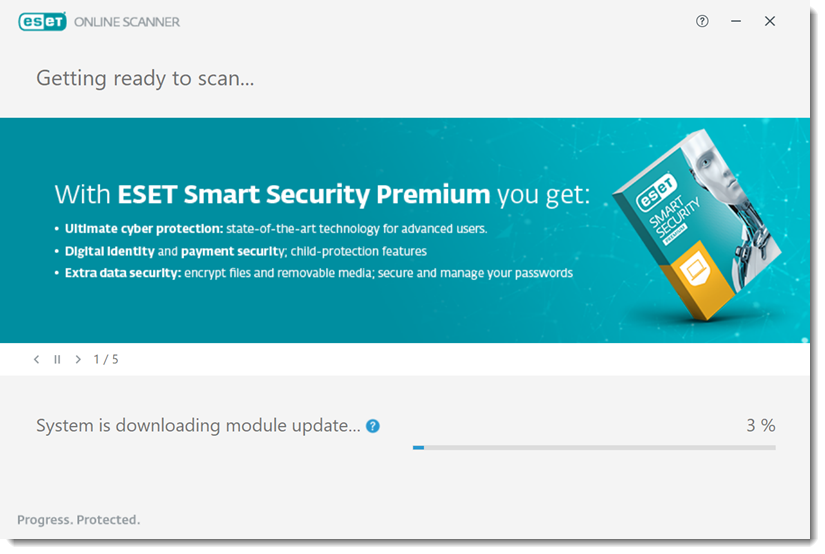 The scan progress displays in the progress bar along with the path and title of the file being scanned. The number of threats found shows immediately. You can click the X icon to stop scanning at any time.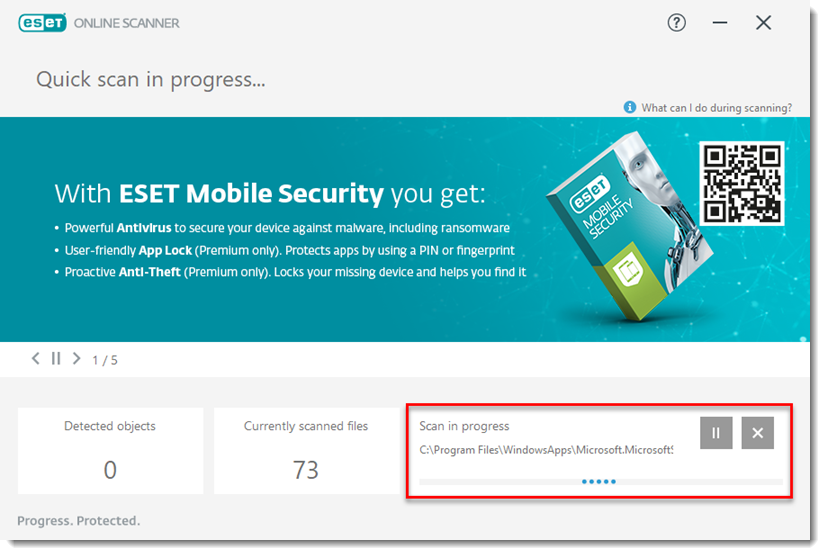 If you would like to save the results, click Save scan log when the scan is finished. Click Continue.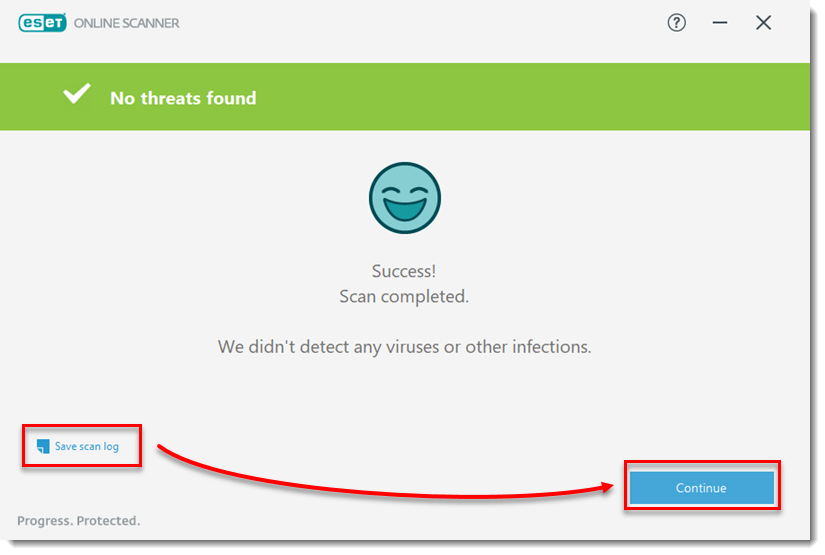 If you would like to enable regular scanning on your computer each month, click the toggle next to Periodic scanning and click Continue twice.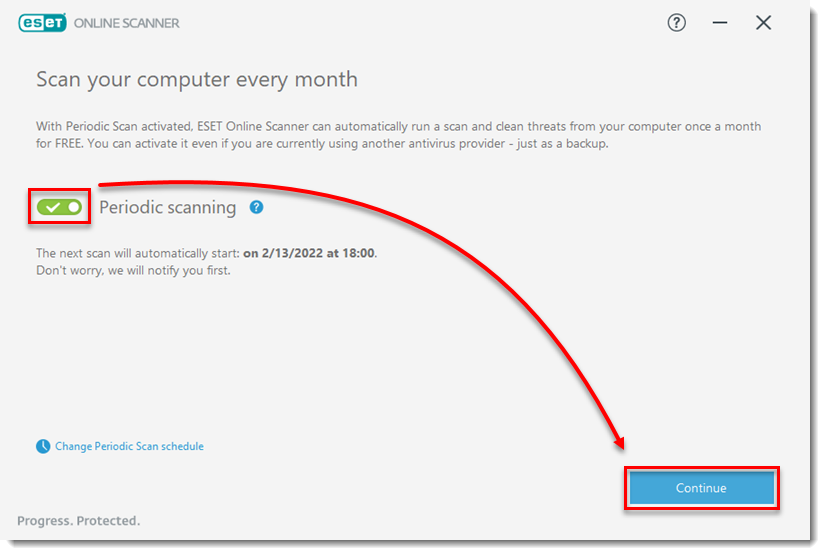 To delete all files and folders ESET Online Scanner created, select the check box next to Delete application data on closing. Leave any feedback you would like, and then click Close without feedback or Continue.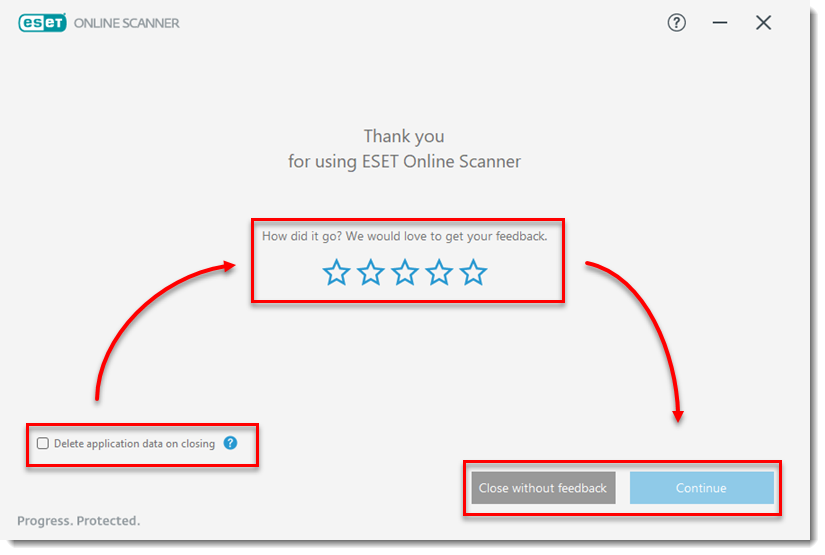 ---
Change Customer Experience Improvement Program settings
Double-click the .exe file you downloaded previously to launch ESET Online Scanner.

Click About ESET Online Scanner.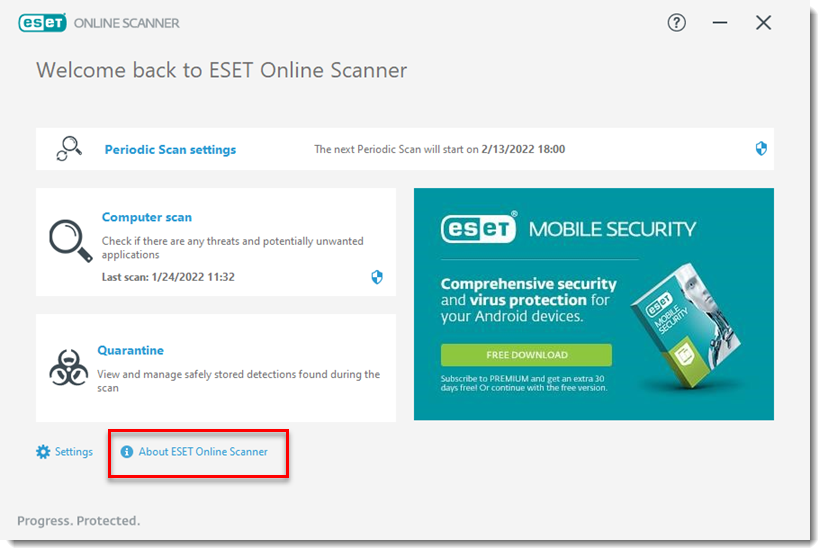 Click Data collection settings.