Issue
After successfully installing and activating your ESET Smart Security product, we recommend that you set up the additional ESET security tools to maximize your protection online: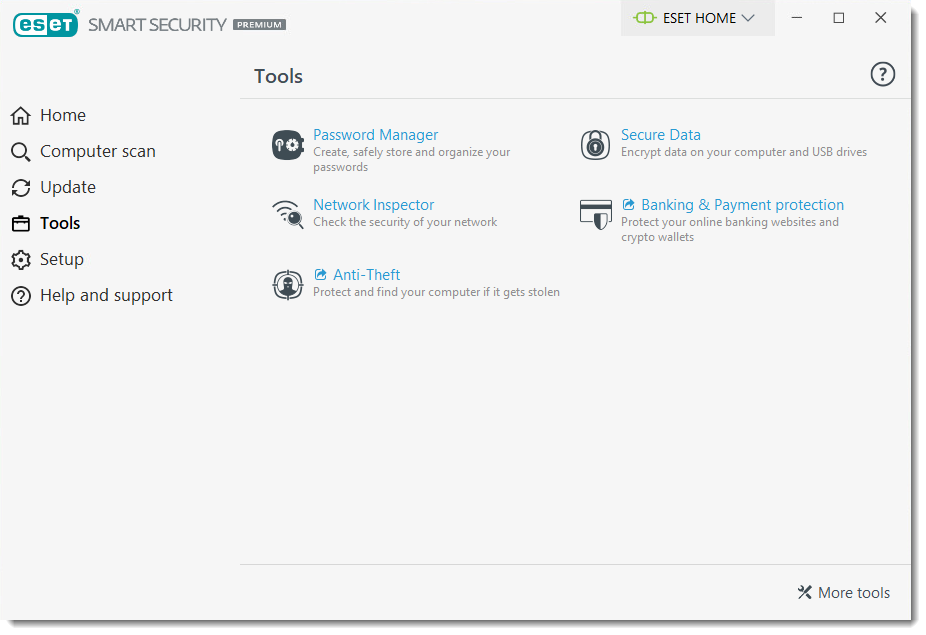 Solution
Password Manager
Password Manager protects and stores your passwords and personal data. It includes a form completion feature that saves time by completing web forms automatically and accurately, as well as a built-in password generator that prompts you to create strong, unpredictable passwords. Your newly created login credentials are stored automatically as they are created.
If you are a first-time user, perform the following steps to set up Password Manager.
Click Tools → Password Manager.

Figure 1-1

Click your account in ESET HOME.

Figure 1-2

Type your email address and password for your ESET HOME account, and then click Log in.

If you do not have an account, click Create account. You need to create an ESET HOME account to use Password Manager.

Figure 1-3

Click Add Password Store.

Figure 1-4

If your license is not connected to your ESET HOME account, click Open License Manager → Add license then type your License key and click Add license. When your license appears in the Password Manager portal, click Add Password Store.

Figure 1-5

Type the email address associated with the license of your ESET product and click Add password store.

Figure 1-6

Click the applicable link below to start adding the ESET Password Manager extension to your desired browser.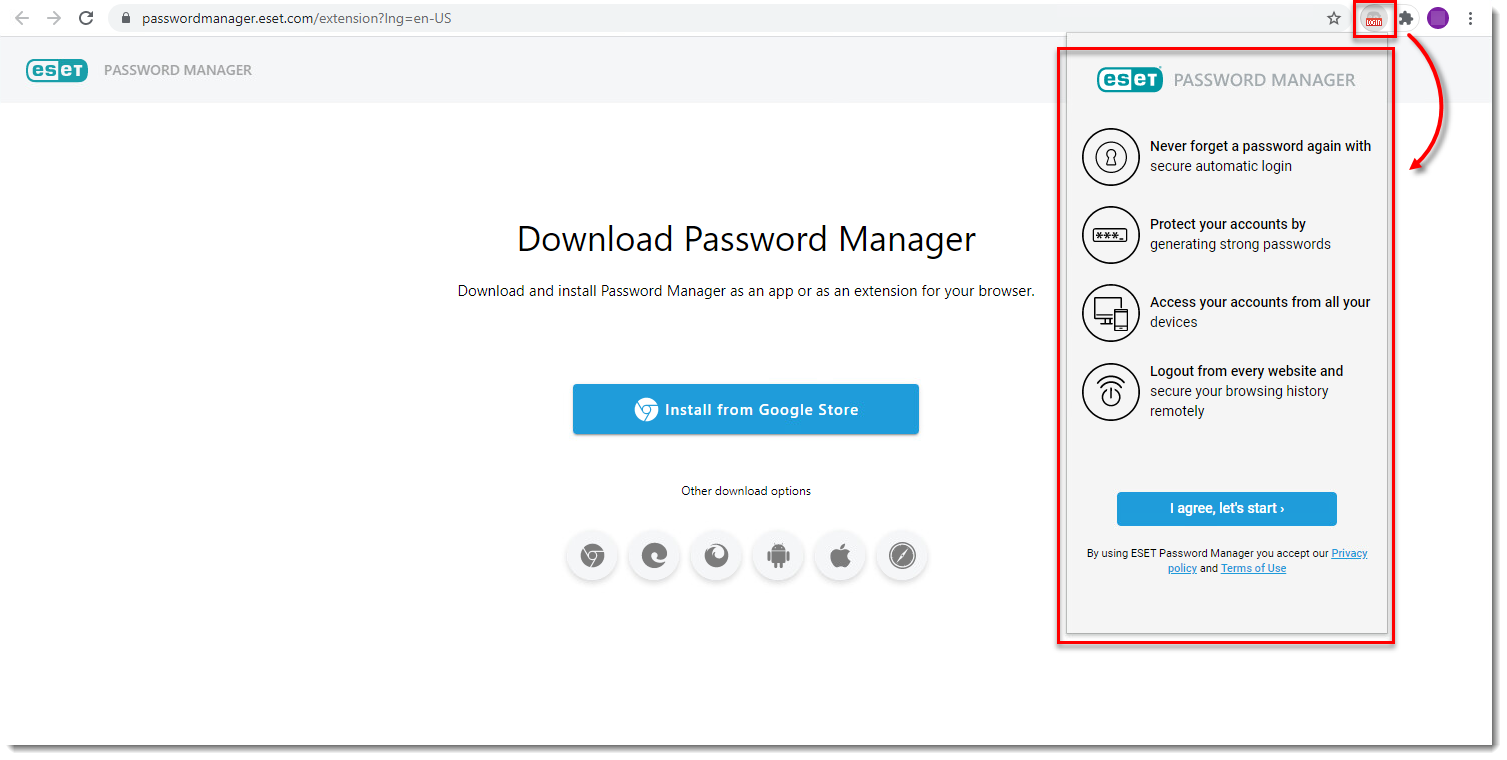 ---
Secure Data
Encrypt data on your computer and USB drives.
To enable Secure Data, click Setup → Security Tools

Figure 2-1

Click the toggle next to Secure Data to enable it and when the setup is complete, click Create encrypted drive.

Figure 2-2

Click Virtual drive.

Figure 2-3

Click Browse.

Figure 2-4

Select the desired location for your encrypted virtual drive and click Save.

Figure 2-5

Click Continue.

Figure 2-6

Type in a strong password into the Set password and Confirm password fields and then click Continue.

Figure 2-7
Click Done to exit the Setup Wizard. Your encrypted virtual drive is ready to use.

Figure 2-8
---
Parental Control
Parental Control enables users to allow or restrict access to certain web content depending on the age and profile of the user account. You will also create a security password to protect all settings within your ESET home product. The password will be required for any future modifications to ESET Smart Security Premium, ESET Smart Security, and ESET Internet Security. See the following articles for more information about setting up and using Parental Control.
---
Anti-Theft
ESET Anti-Theft uses geographical IP address lookup, web camera image capture, user account protection, and device monitoring to help you and a law enforcement organization locate your computer or device if it is lost or stolen. Anti-Theft is recommended for laptop users; you do not need to set up Anti-Theft on a stationary PC. Activate ESET Anti-Theft.