To install and activate DriveSecurity: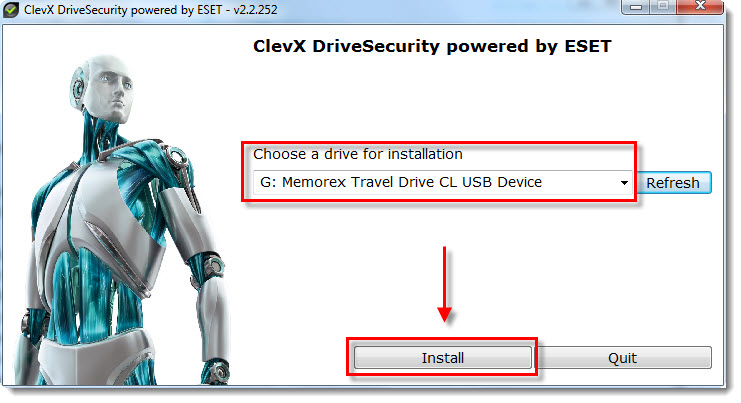 Figure 1-1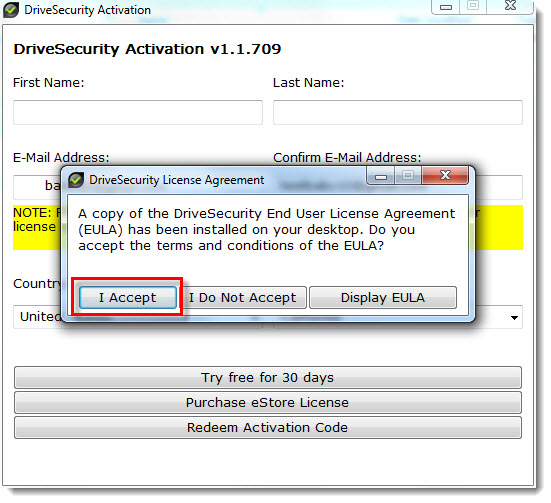 Figure 1-2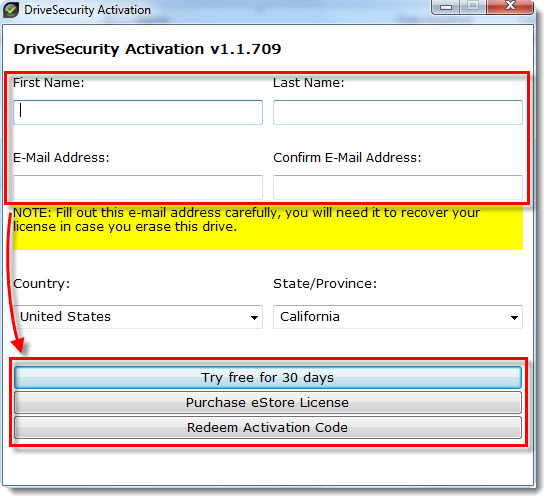 Figure 1-3

After downloading DriveSecurity, the installation window will open. Select your device from the Choose a drive for installation drop-down menu and click Install.



You will be prompted to accept the End User License Agreement. Click I accept.

Enter your information into the First Name, Last Name, E-Mail Address and Confirm E-Mail Address fields. When you are finished, click Try free for 30 days to activate your trial, click Purchase eStore License to purchase a full version or click Redeem Activation Code if you have already purchased DriveSecurity.

To renew/extend your license after the purchase period ends:

When your DriveSecurity license expires (either at the end of a trial or purchase period), a dialog will notify you and offer an option to purchase or extend your license (see Figure 1-4). Click OK to be redirected to the eStore where you can renew your license. After you have completed the renewal process, open DriveSecurity and click Yes when prompted to run the activation sequence.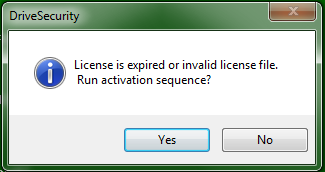 Figure 1-4
Trial Information:
The free trial period is 30 days. After 30 days, DriveSecurity will still function but no longer receive the latest virus signature database updates. A DriveSecurity Activation window will appear with a message that the current license has expired. To purchase a full license, click Purchase eStore License. Each 30-day trial is device-specific.
If you would like another 30-day trial of DriveSecurity for another portable device, visit http://www.eset.com/us/msp/DSInstall/DSInstall.exe to download. Your trial will start for the new device when you first run DriveSecurity.

Lost License
If you lose the activated device, you cannot recover the license because DriveSecurity license is tied to the UDI (unique device identifier) of a given device. You will need to purchase a new license by downloading a new version of DriveSecurity for your replacement device from http://www.eset.com/us/msp/DSInstall/DSInstall.exe.
If you wipe your removable media device, you can recover by downloading again: Download DriveSecurity. DriveSecurity will recognize the UDI (unique device identifier) of your device and you will be prompted to enter your email to recover your license (see Figure 1-5). You must enter the same email used when you purchased DriveSecurity for that device.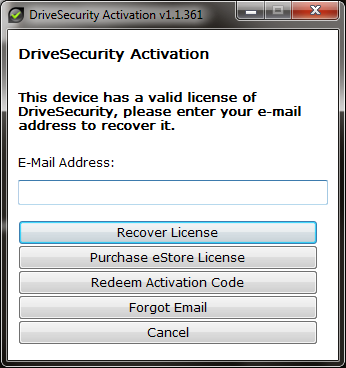 Figure 1-5
Device Information:
To find your Security Username, Open DriveSecurity and hover over the flash drive icon . Your username will display in the tooltip as EAV-XXXXXXXX.

Figure 1-6
If your DriveSecurity is working properly, a DriveSecurity icon will display in the system tray.

Click the OFF icon in the DriveSecurity window to completely close the program and stop all scanning. To restart protection, run DriveSecurity.exe from the root directory of the device.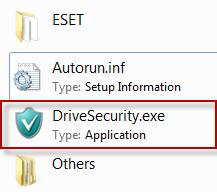 Figure 1-7
To start DriveSecurity if autorun is disabled, run DriveSecurity.exe from the USB device. Click Start → Computer and then double-click the portable device. DriveSecurity.exe will be in the root folder of the device.

To run an On-demand scan with DriveSecurity, open the DriveSecurity program window by clicking the DriveSecurity icon in the system tray. Click the magnifying glass icon located in the bottom left corner of the DriveSecurity program window.

Figure 1-8
To uninstall DriveSecurity:
When prompted that your license has expired, click Cancel to uninstall DriveSecurity. You will see a confirmation window when uninstallation is complete.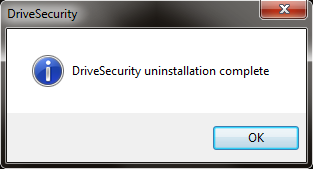 Figure 1-9
If the virus signature database updates fail:
Verify that your computer is connected to the Internet (it must be online and not using a proxy/transparent proxy).
Verify that your license is up-to-date (unplug the drive and reconnect the drive; if an activation window appears then your license must be renewed).
Make sure that DriveSecurity files are not marked as "hidden" or "read-only". This includes the "DriveSecurity.exe" file and the "ESET" folder at the root of the removable device.
Make sure you leave your drive connected to your computer for long enough or use the 'force update' button (a small notepad icon next to the version number in your product).