If you receive the following message (or similar) when installing an ESET product, you may have a corrupt or incomplete installer file:
"This installation package could not be opened. Verify that the package exists and that you can access it, or contact the application vendor to verify that this is a valid Windows Installer package."
To resolve this issue, begin with Solution 1 and only proceed to Solution 2 if the issue persists.
Solution 1: Download a new ESET installation package
Download the ESET installation package for your ESET product from the ESET website:
After you have saved the file, locate and double-click it to re-try the installation process.
If you receive the same error message, the Windows Installer service may need to be restarted or repaired. Proceed to Solution 2.
Solution 2: Start the Windows Installer service
The Windows Installer service adds, modifies, and removes any applications that are provided as an .msi package. If this service is disabled any services that depend on it will fail to start.
To verify that the Windows Installer service is running and to enable it if it is not, follow the steps below:
Press the Windows key + R, type Services.msc into the field and press Enter.
Locate the Windows Installer service in the Services window, right-click it and select Properties.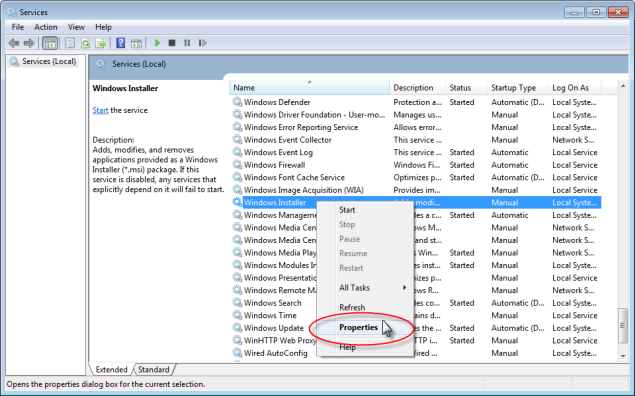 Figure 1-1
Click the image to view larger in new window
Select Automatic from the Startup type drop-down and click Start.


Figure 1-2
Click OK and try the installation again. If you receive the same error message, the Windows Installer service could be corrupted. See the following Microsoft Knowledge Base article for assistance repairing the Windows Installer service: http://support.microsoft.com/kb/315346.