You receive the "Protected Browser could not be started" message or you are unable to enter your banking website username and password without the keystrokes being "scrambled".

Solution: Disable keystroke encryption in software that uses this technology, for example, IBM Trusteer Rapport, Hitman Pro Alert, Web Companion, SpyShelter, KeyScrambler or Zemana AntiLogger. If keystroke encryption cannot be disabled, you may need to uninstall the software to resolve this issue.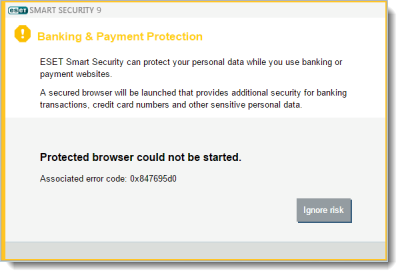 Figure 1-1
Figure 1-2
Banking & Payment redirector shows connection as insecure.

Solution: Your browser's address bar may display "Not Secure" immediately after opening ESET Banking and Payment protection. This is normal and does not constitute a security risk.

The landing page is strictly informational and you cannot upload or download content on this page. It uses the http protocol, which causes your browser to display "Not Secure." After navigating to your banking or payment site, the browser should display "Secure", which indicates that the secure https protocol is being used. This lets you know that your login information is being encrypted by both the website and ESET Banking and Payment Protection. For more information about "Not Secure" messages in the Google Chrome Browser, visit the following We Live Security article.
Unable to open Banking and Payment Protection in ESET Windows home products
If you are experiencing this issue (error 0x847695d7), we recommend that you restart your computer.
If restarting your computer does not fix this issue, we recommend that you try each solution in the order below:
In your computer settings, select a different default web browser and apply your changes. Repeat the process and select your original browser and then restart your computer.
Backup your ESET settings and reinstall ESET.
Update your operating system. Install the latest updates offered in Windows Update tool or enable the Automatic Updates feature.
Enable Pre-release updates to have access to the most recent detection methods and fixes.