In ESET Endpoint Security, you can define firewall rules and exceptions that are specific to a firewall profile. Used in combination with the Zone and Rule editor, this allows you to have ESET Endpoint Security automatically switch to a more or less secure profile when traveling between multiple networks.

For example, if you travel to and from work and access public networks while out of the office, but do not require the use of certain rules while at your office, you can create profiles for office and public use. When ESET Endpoint Security detects the IP address from your office network, it will only enforce the rules included in your office profile. When you access a public network with a different IP address, ESET Endpoint Security will automatically switch to your public profile and enforce the rules that you have in place for that profile.

ESET Security Management Center (ESMC) users: Perform these steps in ESMC
II. Create your Personal firewall profile
I. Define your zone
Press the F5 key to open Advanced setup.
Click Network Protection, expand Advanced and click Edit next to Zones.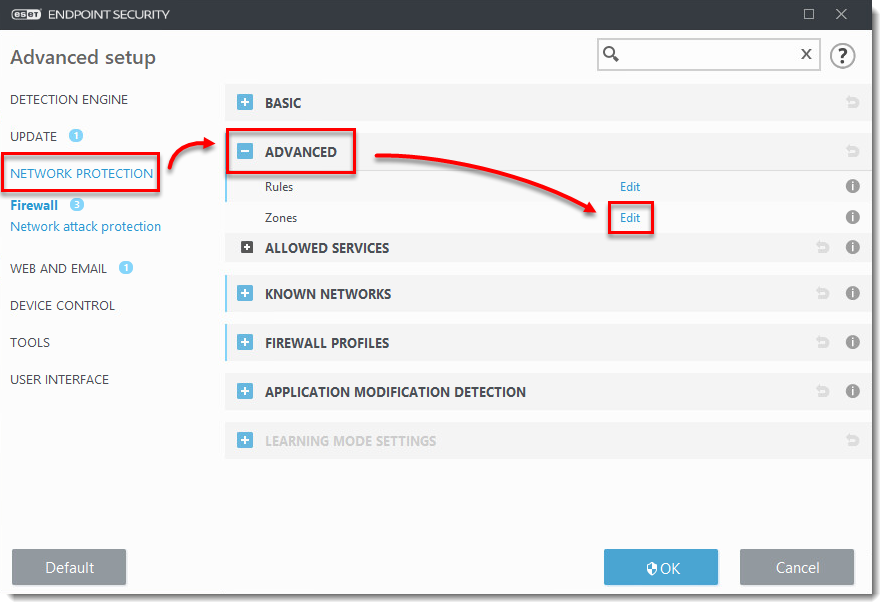 Click Add, type a name for this zone into the Name field, type the IP address or subnet of the zone into the Remote computer address field and then click OK → OK.