[KB6373] Screen overlay detected in ESET products for Android on Android 6
Issue
You receive the message "Screen overlay detected" when you grant permissions in your ESET product for Android on Android 6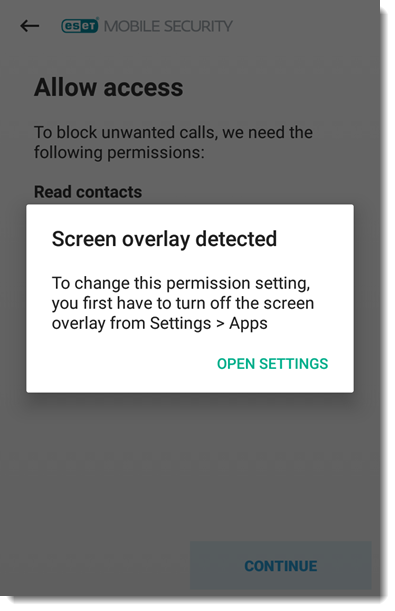 Details
---
Click to expand




On Android 6, an application with "Permit drawing over apps" permission granted (for example, a third-party blue light filter app) and with the application screen overlay active may prevent you from interacting with the user interface in other applications. The "Screen overlay detected" message is displayed because you have another application open, which has screen overlay permissions.
---
Solution
To resolve this error message, follow the steps below to edit permissions for the application you have running in the background.
Tap Open settings.

Figure 1-1

Tap the application that is overlaying the screen. If you are not sure which app is open, close the apps running in the background.

Figure 1-2

Tap the toggle next to Permit drawing over other apps to enable it.

Figure 1-3

Open your ESET product again. Your ESET mobile product is now fully functional.