We are always working to improve ESET security products, which results in new product versions that improve upon previous releases. To make sure you have the latest version of ESET NOD32 Antivirus 4 for Linux Desktop, follow the steps below.
Linux Business Edition users: click here.
Open the main program window by clicking the ESET icon in the notification area, or by clicking Applications → System Tools → ESET NOD32 Antivirus.

Click Update from the main menu on the left.

If a new version is available, a message that says "A new version of the product is available!" will be displayed at the bottom of the window.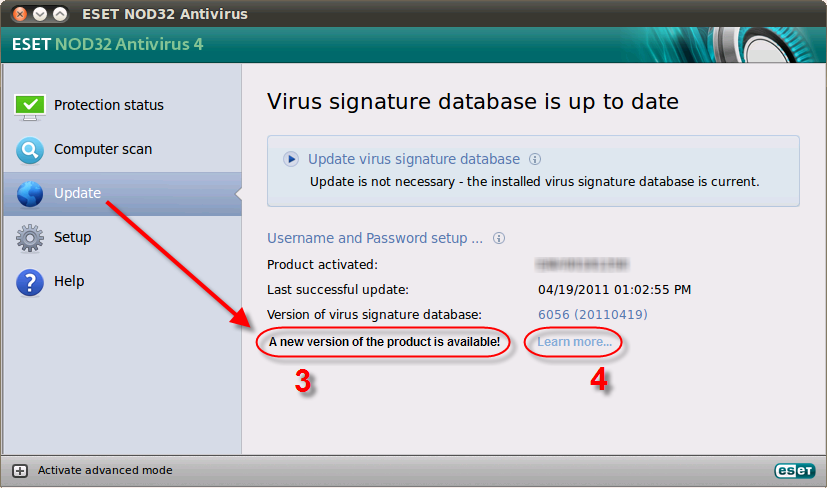 Figure 1-1
Click the image to view larger in new window
Click Learn more… to display a new window containing the version number of the new build, the list of changes in the new version and other important info.

Click Download to download the latest version or click Close to download the upgrade later.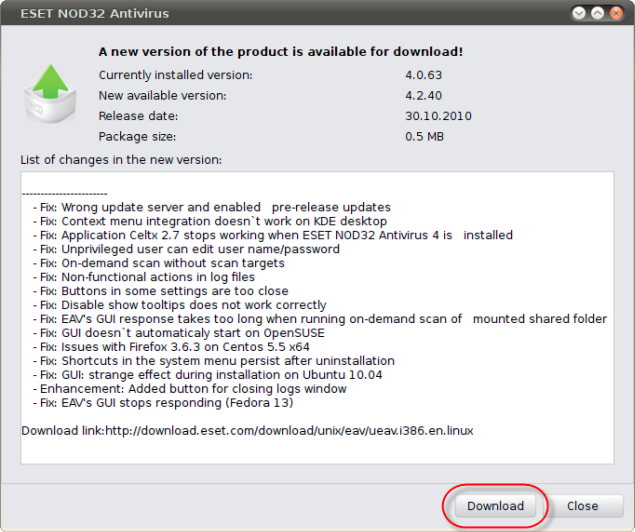 Figure 1-2
If you clicked Download, the file will be downloaded to your downloads folder (or the default folder set by your browser).
When the file has finished downloading, open it and follow the instructions to Install ESET NOD32 Antivirus 4 for Linux Desktop.
Your username and password will be automatically transferred to the new installation. We recommend that you check for upgrades regularly and especially after a recent installation.
Related: