Issue
Upgrade ESET Endpoint Security, ESET Endpoint Antivirus, or ESET Server/Mail Security to the latest version
Deploy ESET endpoint solutions to clients remotely using the Software Install task
Solution
Getting Started with ESET PROTECT: Step 5 of 6
---
This article applies to the following operating systems:
Windows 7 |
Windows 8 |
Windows 10 |
Windows Server |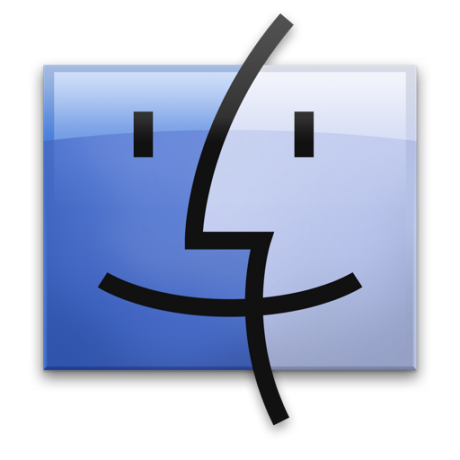 macOS |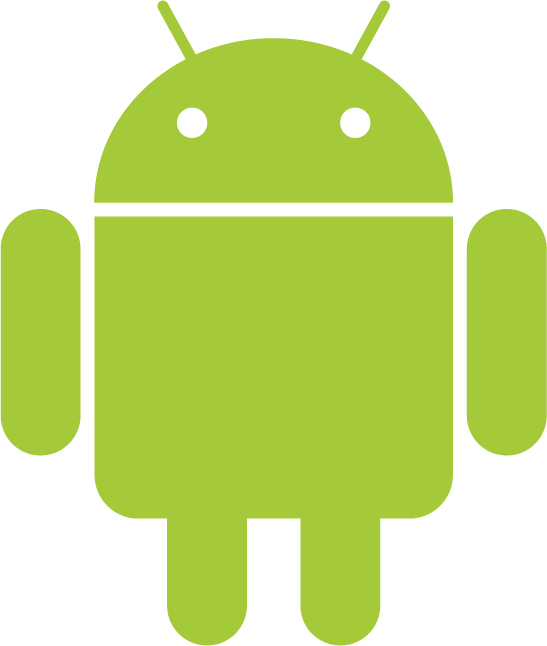 Android |
Linux
---
Click Tasks → Operating System → Software Install → New and select Client Task.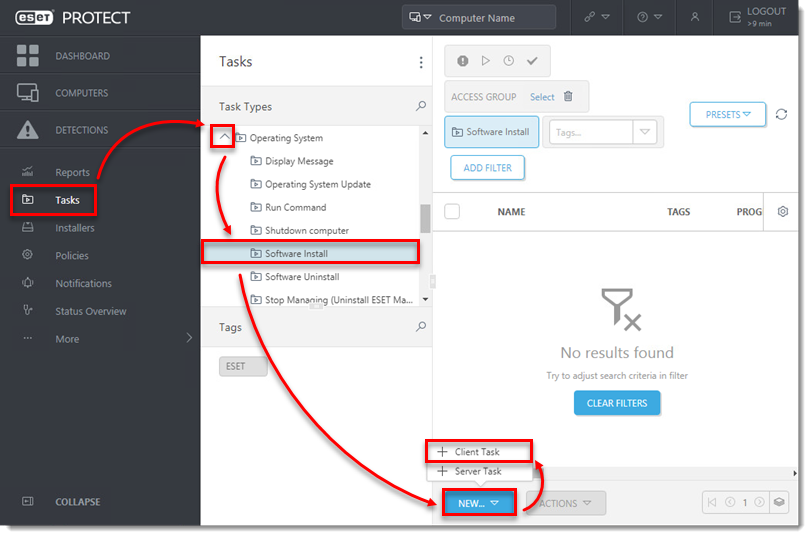 In the Basic section, type a name into the Name field. The Description field is optional. The Task drop-down menu will automatically be set to Software Install.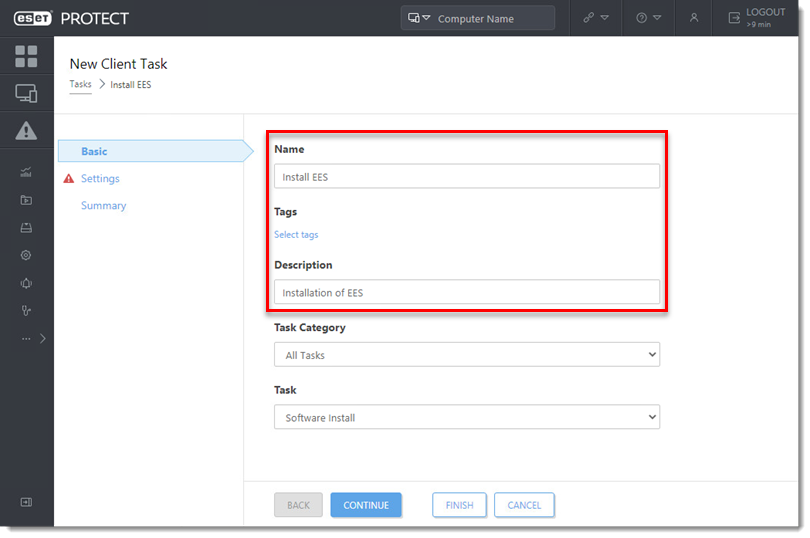 Click Settings. Under Package to install, there are two options to select the package that will be installed on target clients.
To install a package from the repository:
Click <Choose package>.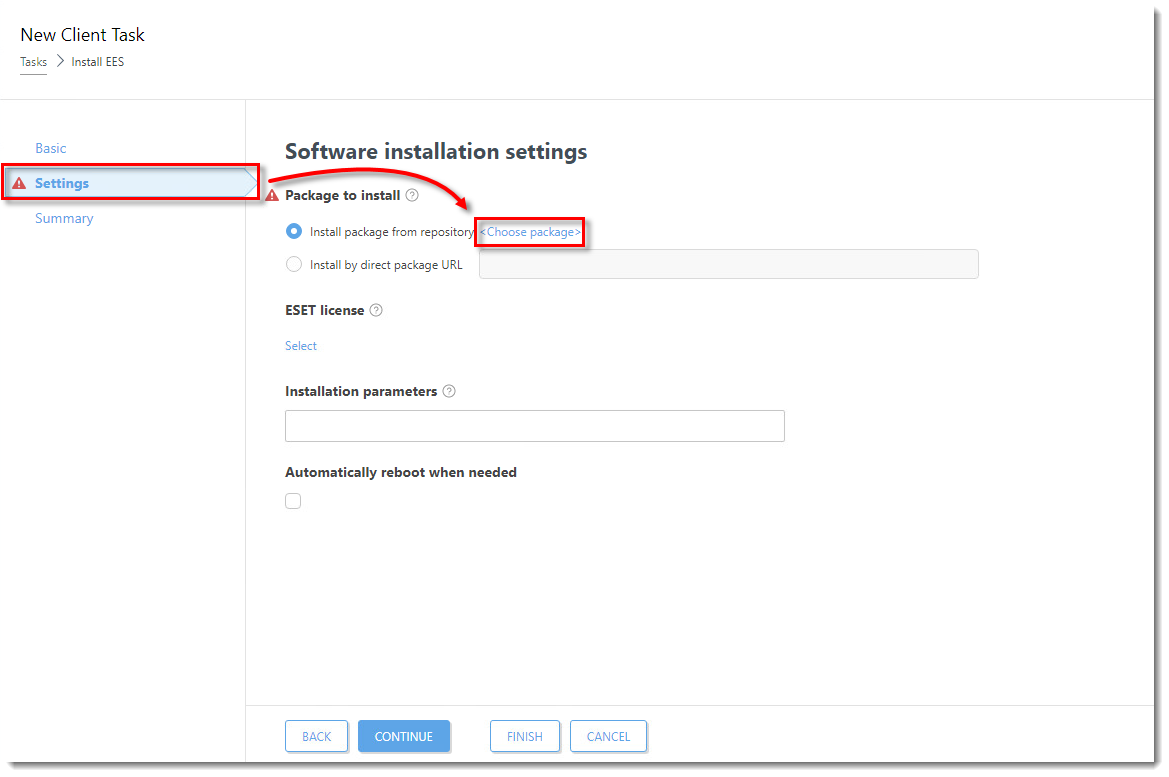 Select the check box next to the ESET product that you want to install on client computers and click OK.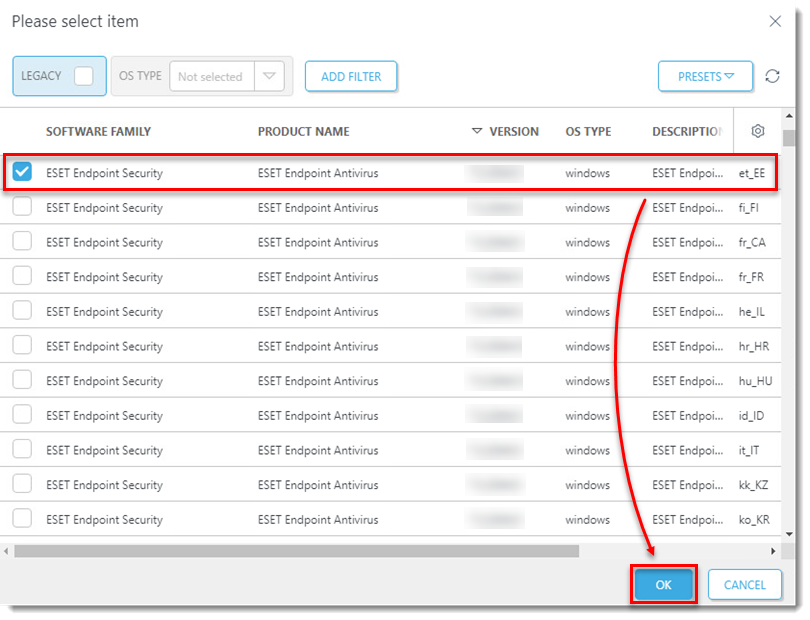 Select the check box next to Activate ESET Dynamic Threat Defense (EDTD) if you have an EDTD license and you have selected an ESET security product compatible with EDTD and the product license. Select the check box next to I accept the terms of the application End User License Agreement and acknowledge the Privacy Policy. Select the check boxes next to Enable The ESET LiveGrid® feedback system (recommended) and next to Enable detection of potentially unwanted applications. Select the check box below Automatically reboot when needed. Proceed to Step 6.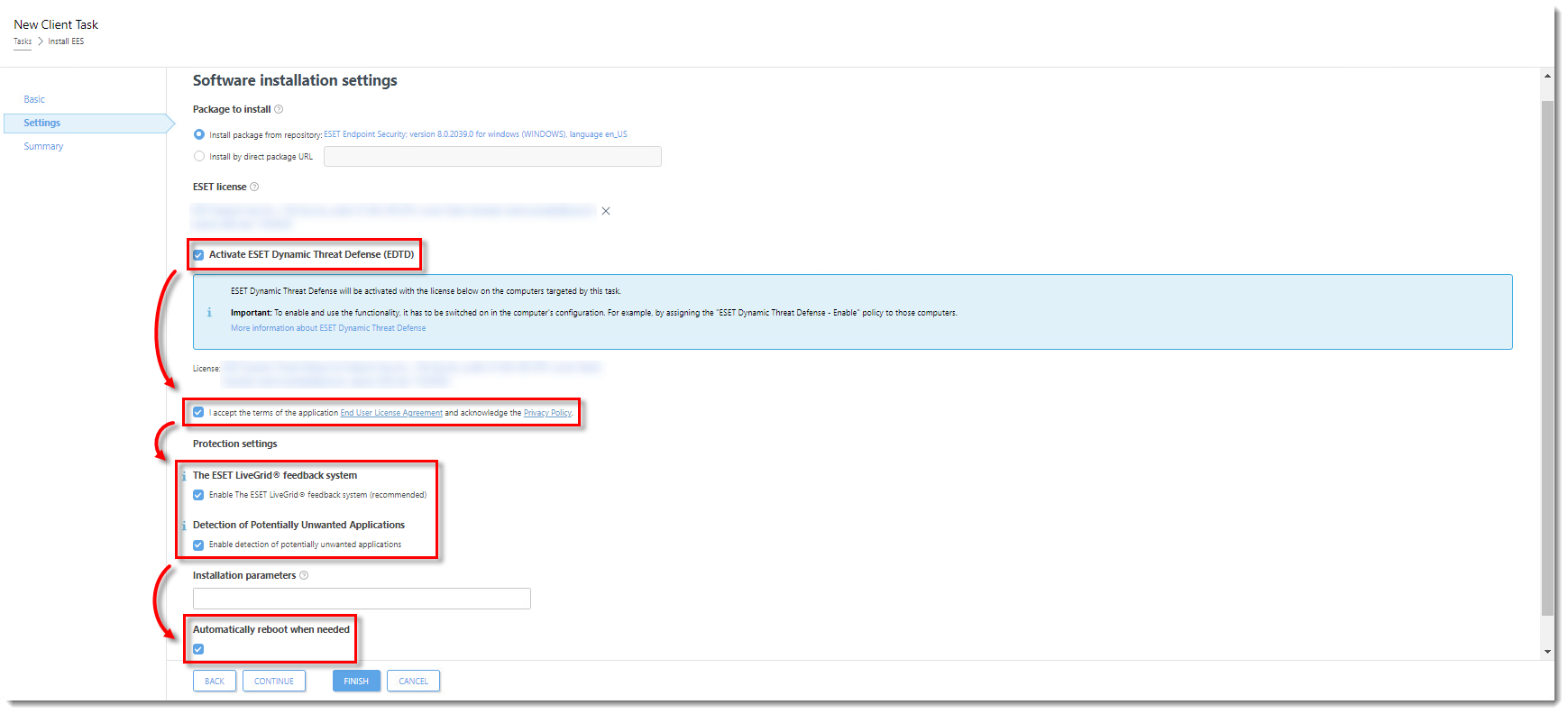 To install a package by entering the target URL:
Select Install by direct package URL, type or copy/paste the package URL into the corresponding field and select the check box next to I accept the terms of the application End User License Agreement. Select the check box below Automatically reboot when needed.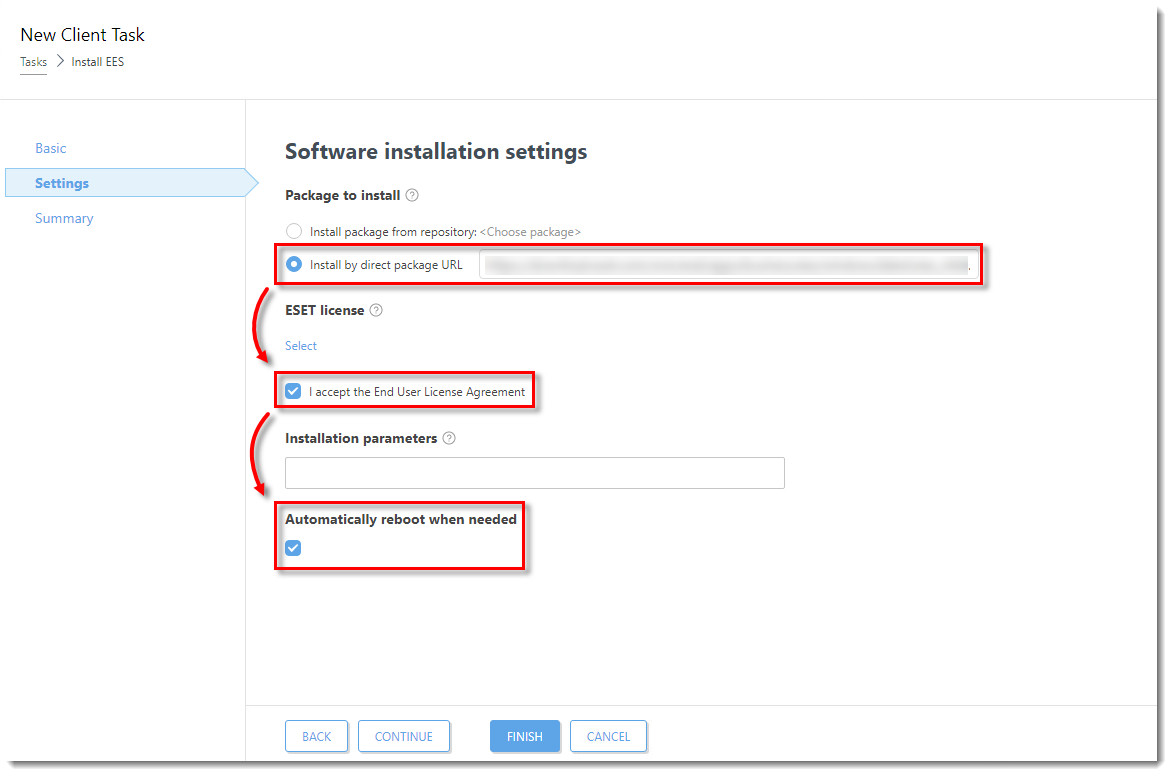 Only click Select below ESET license when installing a new product or upgrading products that are not activated, or if you want to change the license currently in use to a different license. Select the appropriate product license from the list of available licenses. Proceed to Step 6.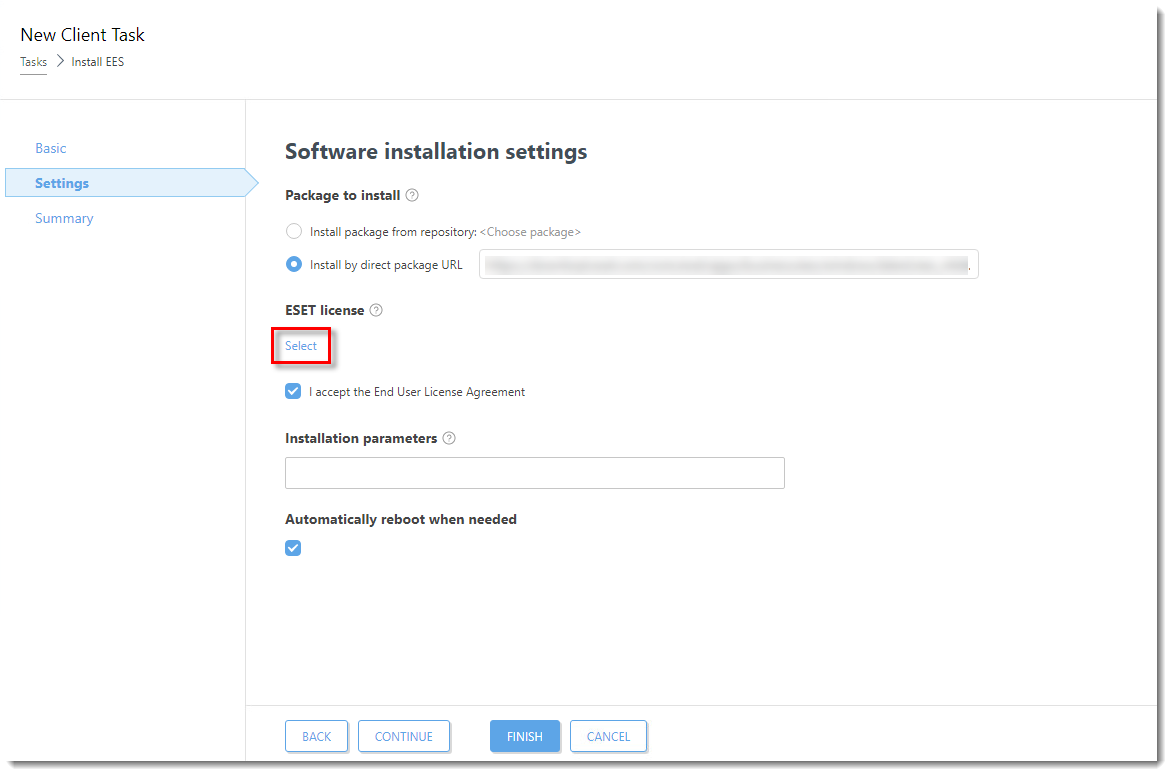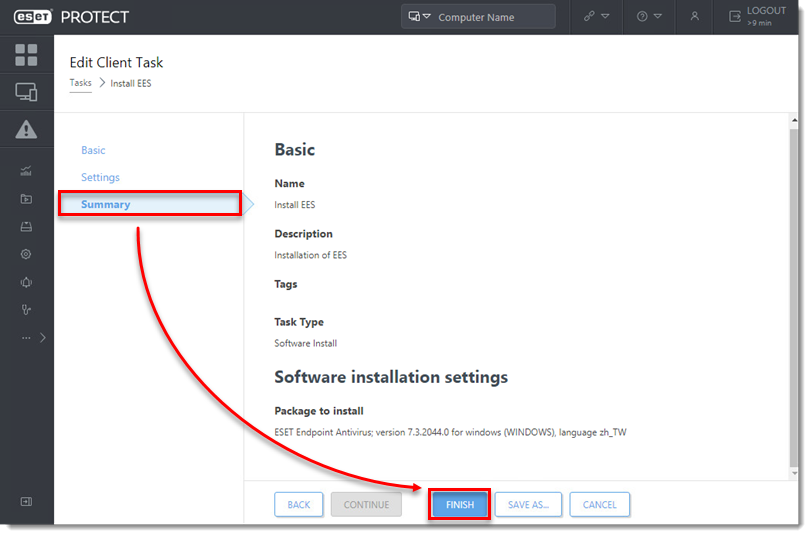 When prompted, click Create Trigger.

Type a name for the trigger into the Trigger Description field.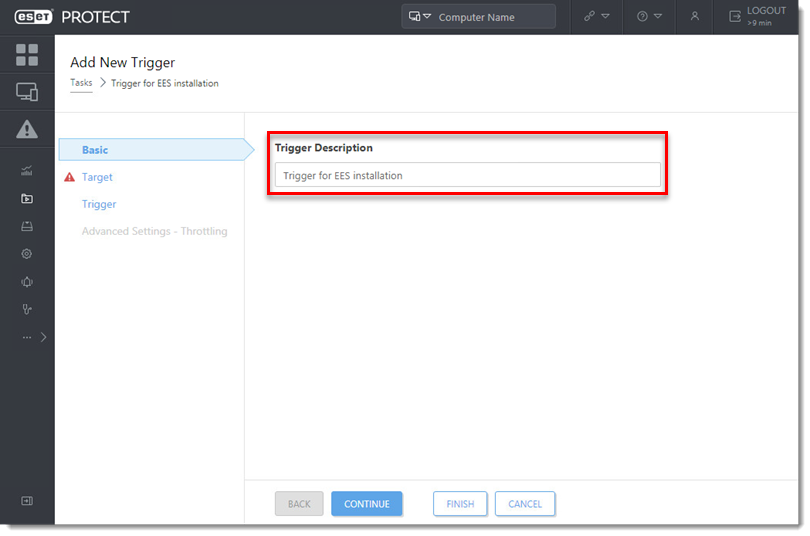 Click Target and click Add computers or Add groups.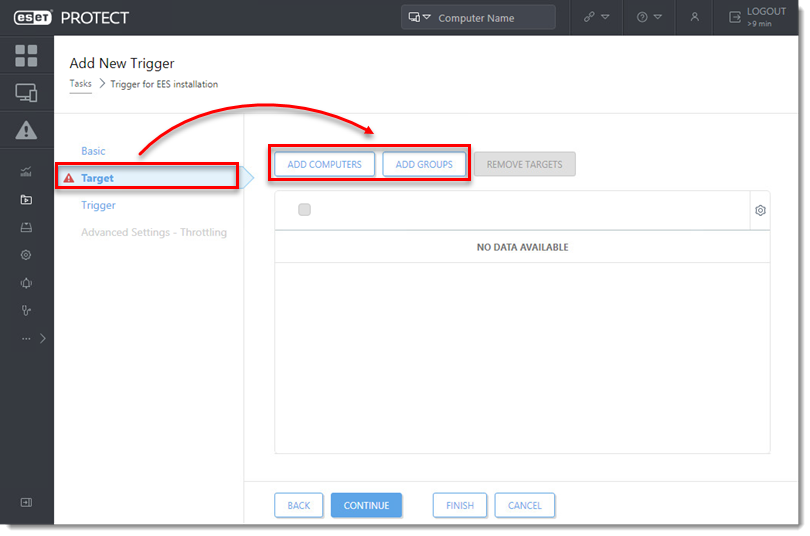 Select the check boxes next to the computers or groups you want to send this task to and click OK.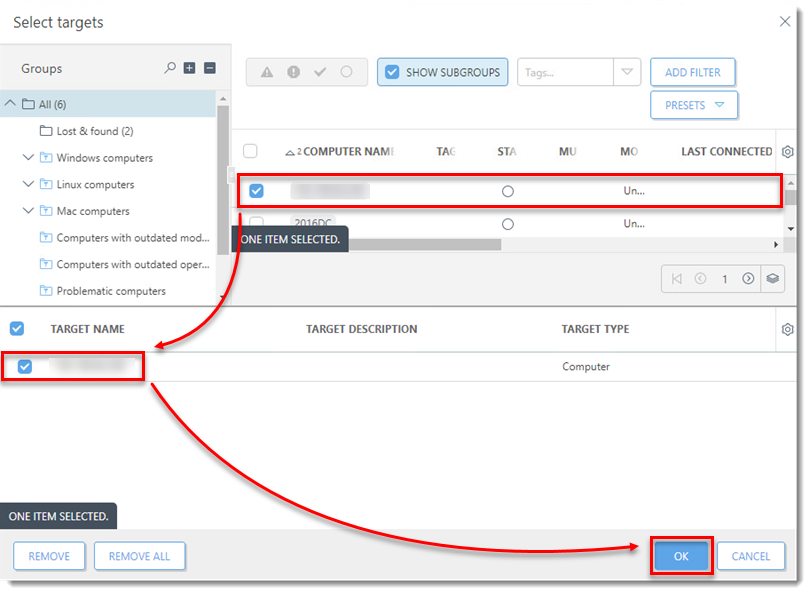 Click Trigger, select a Trigger type, and click Finish.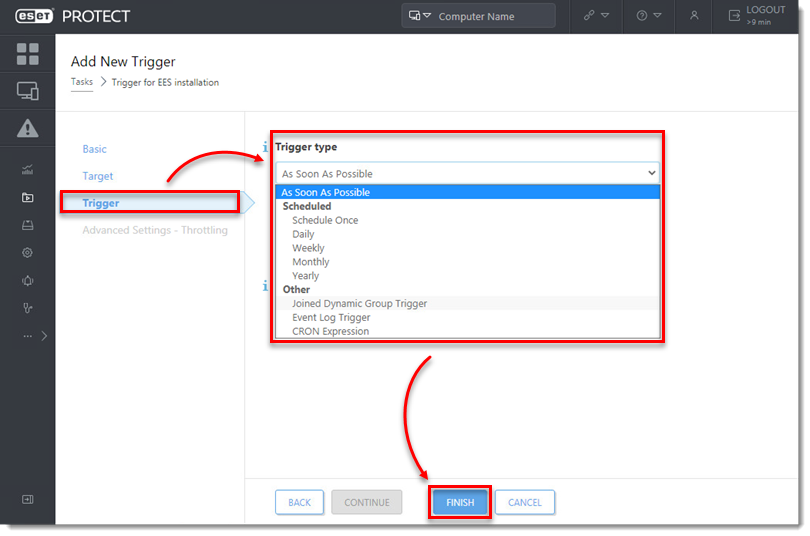 Send an activation task to the computers on which you installed ESET endpoint or ESET Server/Mail Security products so that they can begin receiving regular updates.
If you are performing a new installation of ESET PROTECT, proceed to post-installation tasks.