What is ESET Log Collector?
ESET Log Collector is an application that automatically collects information and logs from a computer to help resolve issues more quickly. When you have a case open with ESET Technical Support, you may be asked to provide logs from your computer. ESET Log Collector makes it easy for you to collect the information needed.
Check to make sure that the version of ESET Log Collector you have installed is the latest version by confirming that the version listed in the Operation log matches the latest version shown here:
ESET Log Collector 4.0.2.0
For more information, see the ESET Log Collector online user guide.
How do I use ESET Log Collector?
Click the link below to download ESET Log Collector:
After the tool has finished downloading, double-click it to run the tool.
Click I Accept to accept the End-User License Agreement (EULA).
Keep the Default collection profile, unless ESET Technical Support instructs you to change it. To change the Collection profile use the drop-down menu. The following options are available:


Default: Most logs needed to diagnose system issues will be collected. It does not include threat information and scan logs.
Threat Detection: Logs related to detected threats and the quarantine will be collected. Use this to submit logs when troubleshooting malware.
All: All logs will be submitted. Use this if you are not sure what to submit.
None: No logs will be collected.
Custom: This setting is automatically selected if you select additional check boxes or deselect check boxes after selecting a profile.
From the ESET logs collection drop-down menu, select Original binary from disk.
Click ... (browse) next to Save archive as, specify the location where you want to save archive files and then click Save (the archive file name is already predefined).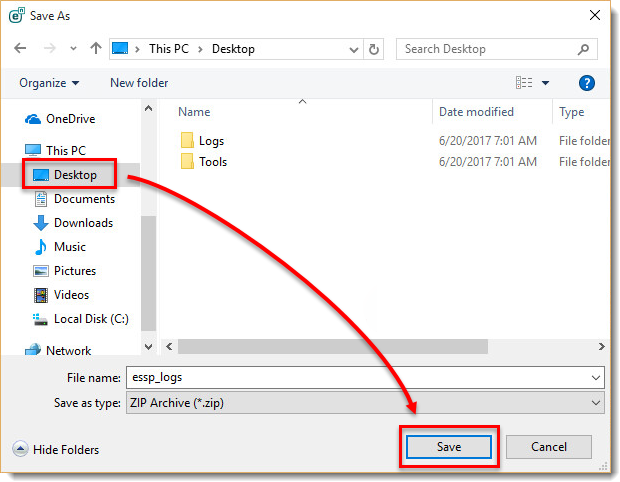 Click Collect.


The collection might take some time to complete. The Operation Log window will display what operation is currently in progress.
When the collection is finished, "All files have been collected and archived" will be displayed. This means that collection was successful and the archive file (for example, emsx_logs.zip) has been saved in the location specified in step 5.
If you already have a case open with ESET Technical Support, you can submit the log files as an email attachment when you respond to ESET. If you do not have a case open, contact ESET Technical Support.
---
What kind of files does ESET Log Collector collect?
Visit the Online Help to view a List of artifacts/Collected files.