By default, ESET products check every hour for a new update and are updated at least once a day with new detection engine updates and occasional program component updates.

Are you a windows user? Click Here.

Complete the steps in the solution I and then continue to solutions II and III if the issue is not resolved.
I. Verify that the latest detection engine updates have been received
Click Update.

If you see the Modules have been updated successfully message, no update is necessary. You can also compare the latest detection engine version listed below to your own.
If your detection engine is not current, the ESET icon on your menu bar will change to a yellow exclamation point and the message "ESET Cyber Security/Cyber Security Pro requires your attention" will be displayed in the home screen. Click Update → Update modules.
Figure 1-1
If the modules update successfully, you are finished.
If you receive an error regarding inconsistent update information, following the instructions in part II below.
II. "Virus signature database could not be updated" error in versions 6.0.x and earlier
Click Username and Password setup (in version 5.x and earlier, click Update→ Update license details).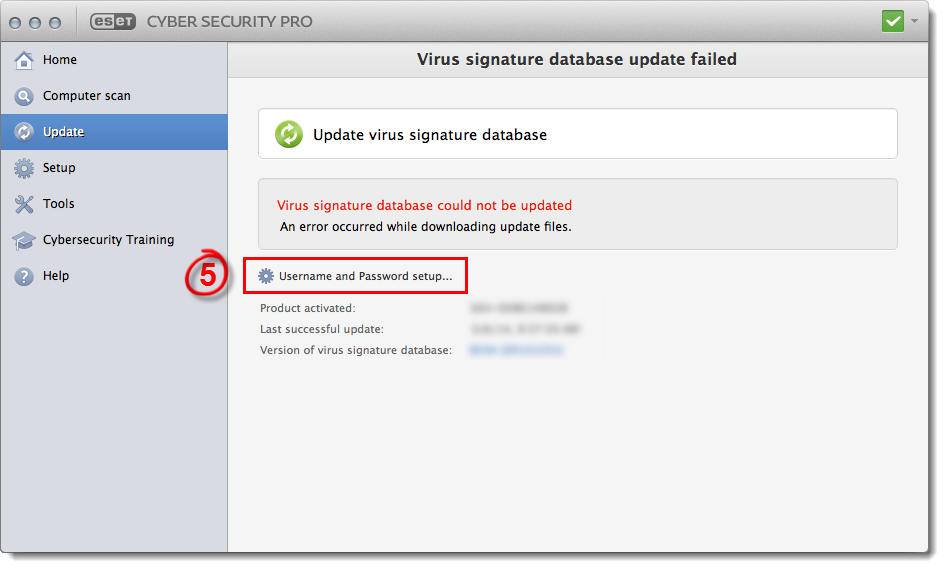 Figure 1-2
In the Username and Password Setup window, enter your Username and Password, verify that they are entered correctly and click OK. If the issue is not resolved, continue to part III below.
The following are
EXAMPLES
only: Username:
EAV-12345678 Password: abcde12345
Figure 1-3
III. Enable pre-release updates
View instructions to enable pre-release updates. Make sure that you follow the instructions completely and disable pre-release updates when your issue has been resolved.