Solution
ESET has released version 14 of its home products.
Released Products
The following table lists the latest released version 14 home products:
| Product | Version |
| --- | --- |
| ESET NOD32 Antivirus | 14.2.23.0 |
| ESET Internet Security | 14.2.23.0 |
| ESET Smart Security Premium | 14.2.23.0 |
Upgrade your ESET Windows home product to the latest version
Click here for a list of features available in ESET home products. Continue reading below for an overview of the new and improved features.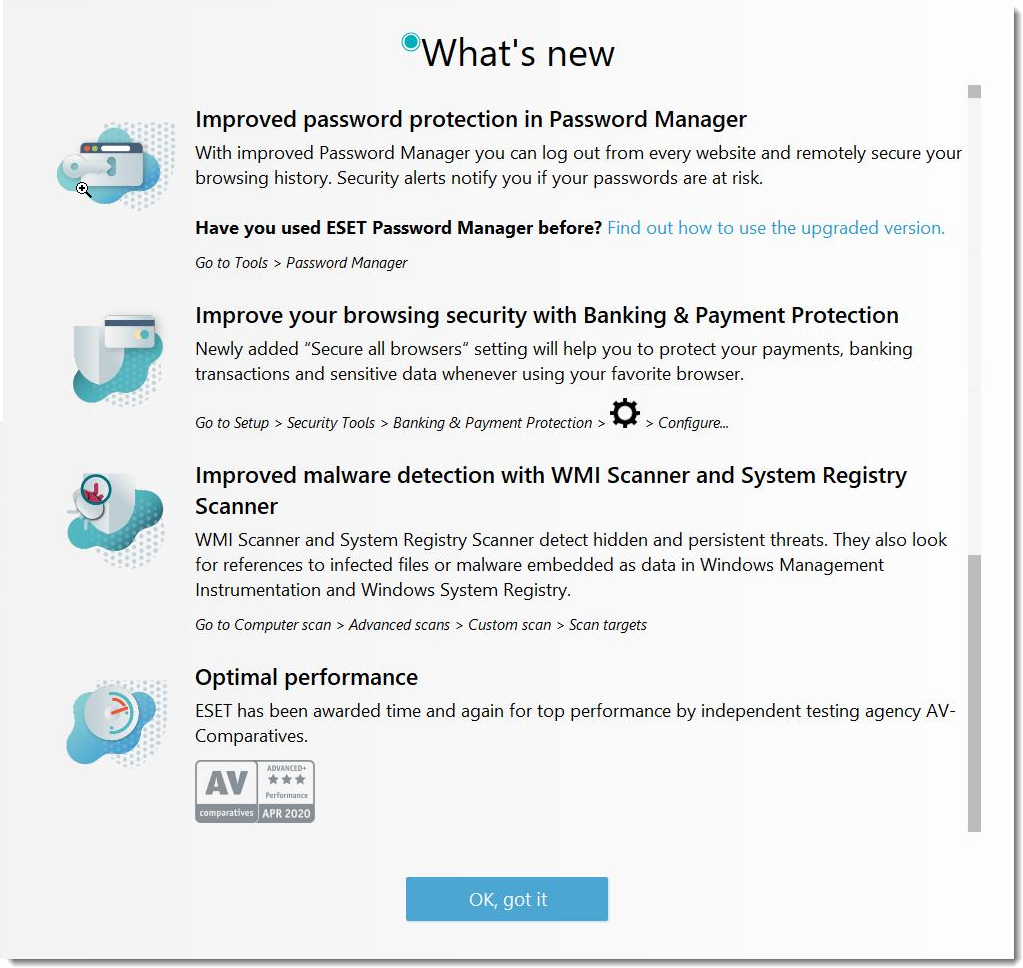 Version 14 has native support of 64-bit code and is compatible with Windows 10 and the new Windows security features.
Visit the System Requirements Online Help topic.
---
Improved Password Manager
Our improved ESET Password Manager includes new features. Secure Me allows you to remotely log out of websites and clear your browser history. Security report shows you the strength level of your passwords and also notifies you if they were compromised by a data breach.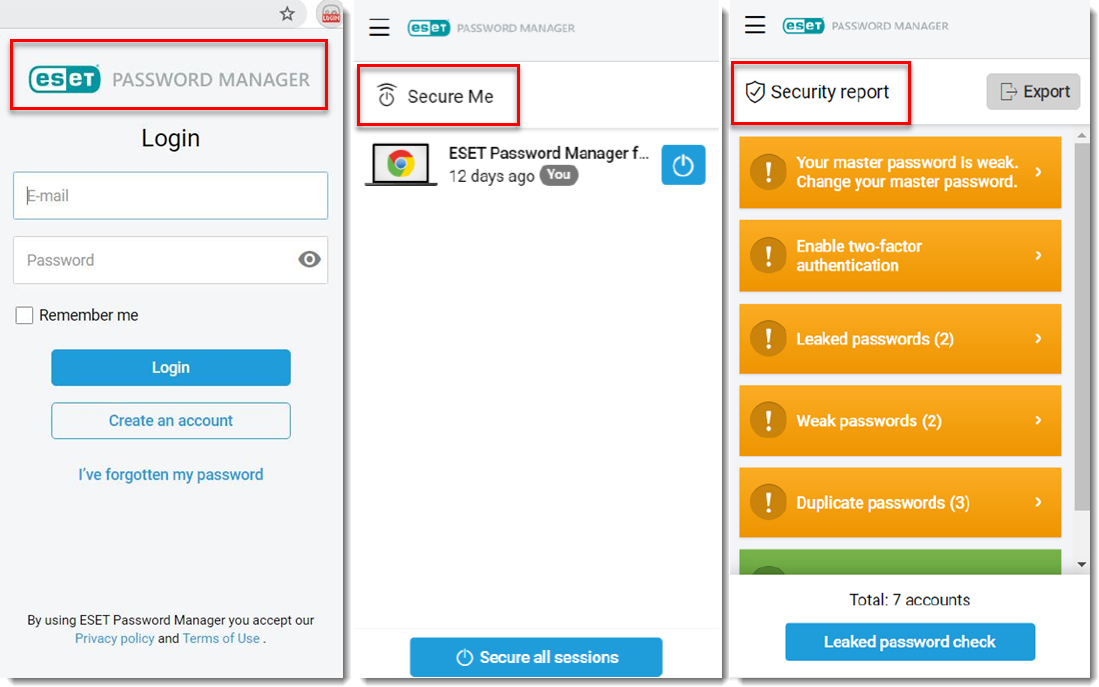 You must upgrade to the latest version of Password Manager to use these features. Once upgraded, you can set up Password Manager. For more information about Password Manager, visit the Online Help topic.
---
Improved Banking & Payment Protection
New to ESET Banking & Payment protection is the Secure all browsers setting. When enabled, this setting automatically protects your preferred browser with the ESET secure browser. Use the ESET secure browser to protect your personal data, credit card numbers, and other sensitive information while you use the internet.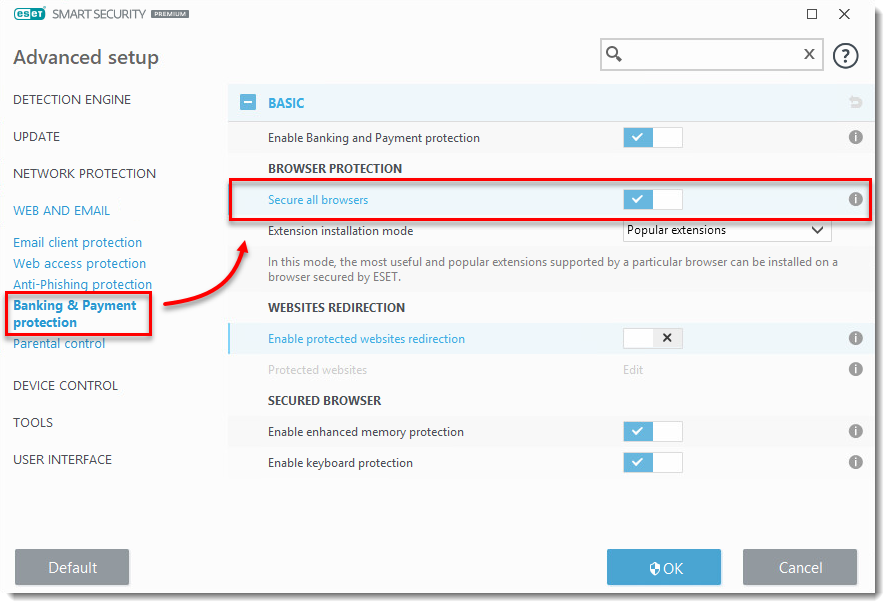 For more information about Secure all browsers and additional settings, visit the Online Help topic.
---
Improved malware detection with WMI database and System registry scans
The new WMI database and System registry scan targets improve your ESET security product's malware detection. Select these scan targets to look for references to infected files or malware embedded as data in your Windows Management Instrumentation and Windows System Registry.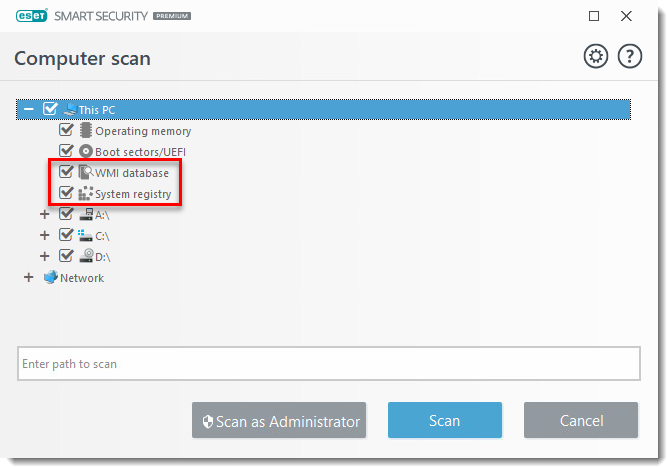 To select these scan targets, create a Custom Scan. For more information about the WMI database and System registry scan options, visit the Online Help topic.
---
Other improvements
Connected Home (formerly Connected Home Monitor) helps users protect their routers from threats coming from Wi-Fi networks. In addition to a new name, Connected Home has been improved in version 14 with better device detection and troubleshooting.
Change product no longer requires a computer restart. As long as you have a valid license for the applicable product, you can change to the new product and it will automatically display.
New product change notifications remind users to upgrade to a higher product if their license allows them to. Users can also disable these notifications and keep using their current product.