Existing customers with a valid business license for ESET Remote Administrator (ERA) may upgrade to the latest version of the same product for free.
Download the two files below. You will need to enter your ESET-issued Username and Password to download.



ESET Remote Administrator Server ESET Remote Administrator Console

When both downloads are complete, double-click the fille named era_server_nt32_enu.msi to launch the ESET Remote Administrator Server (ERAS) installer.
Select a Typical installation type at the Select type of installation screen and then click Next.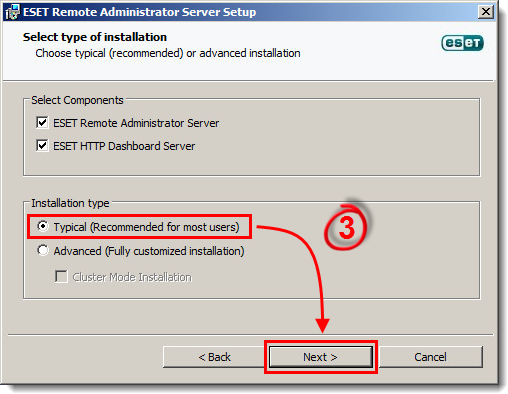 Figure 1-1
Click the image to view larger in new window
Follow the ESET Remote Administrator Server Setup instructions to upgrade ERAS.
ERA version 4.x users: Select Full import at the Migration Settings screen and then follow the on-screen instructions to install ERAS over your existing installation.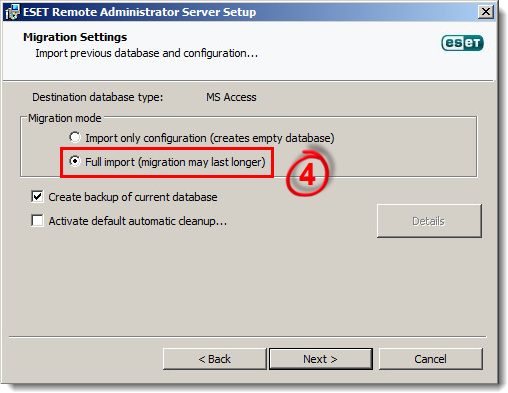 Figure 1-2
Click the image to view larger in new window
When ERAS installation is complete, double-click the file named era_console_nt32_enu.msi to launch the ESET Remote Administrator Console (ERAC) installer. Follow the on-screen instructions to install ERAC over your existing installation.
If you want to continue using policy settings from policies created for 4.x and earlier clients, use the Policy Migration Wizard to create a new 5.x policy with settings from your previous policy.

See the Knowledgebase article below for step-by-step instructions: