Are you a home user?
ESET Technical Support has requested a copy of one of the following log files:
Detected threats
Events
Computer scan
HIPS
Personal firewall
Filtered websites
Antispam protection
Web Control
If you are looking for instructions to submit an Sysinspector log, see the following Knowledgebase article:
Create a SysInspector log and submit it to ESET Technical Support for analysis
Your ESET product keeps logs of all previous scans that have been run on your computer. These scan logs are useful in determining whether previous threats have been successfully cleaned or deleted. See below for more information about each type of log file:
Detected threats: Detailed information about infiltrations detected by your ESET product modules
Events: All important actions performed by your ESET product are recorded in the event log
Computer scan: Results of all completed manual or planned scans
HIPS: A record of specific rules which were marked for recording by the user
Personal firewall: Displays all remote attacks on your computer detected by the Personal firewall (only in ESET Endpoint Security).
Filtered websites: List of websites that were blocked by Web access protection or Web Control
Antispam protection: Contains records related to email messages that were marked as spam
Web Control: Shows web pages that were blocked or allowed by Web Control, as well as how filtering rules were applied. Only in ESET Endpoint Security

Endpoint users: Perform these steps on individual client workstations
---
ESET Remote Administrator 6.x
Each ESET Remote Administrator component performs logging. ERA components write information about certain events into log files. The location of log files varies depending on the component. See the following Online Help topic for a list of log file locations for Windows, Linux, the ERA Virtual Appliance and macOS: Troubleshooting → Log files.
---
ESET Remote Administrator 5.x
Open ESET Remote Administrator Console (ERAC) by clicking Start → All Programs → ESET → ESET Remote Administrator Console → ESET Remote Administrator Console.
Right-click the client(s) that you want to export logs from, under Data For This Client and then select the type of log you want exported. In this example the Events Log will be exported.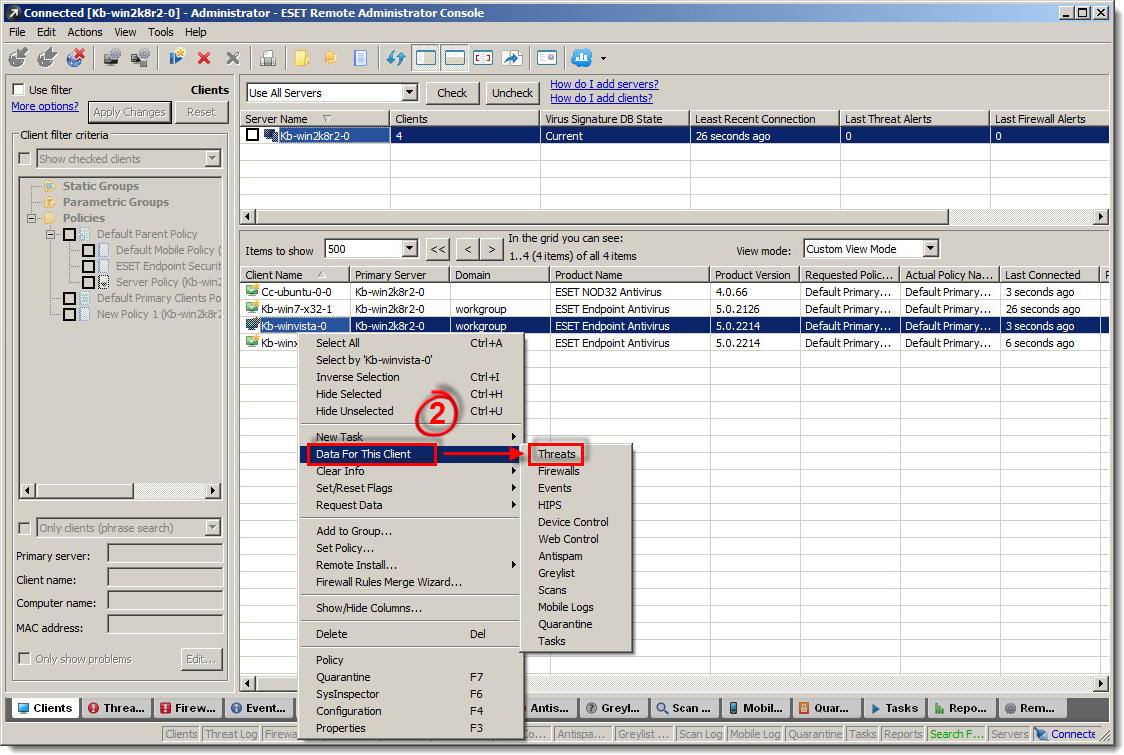 Figure 1-1
Click the image to view larger in new window
Select Show All and Do not limit time from the Items to show drop-down menus.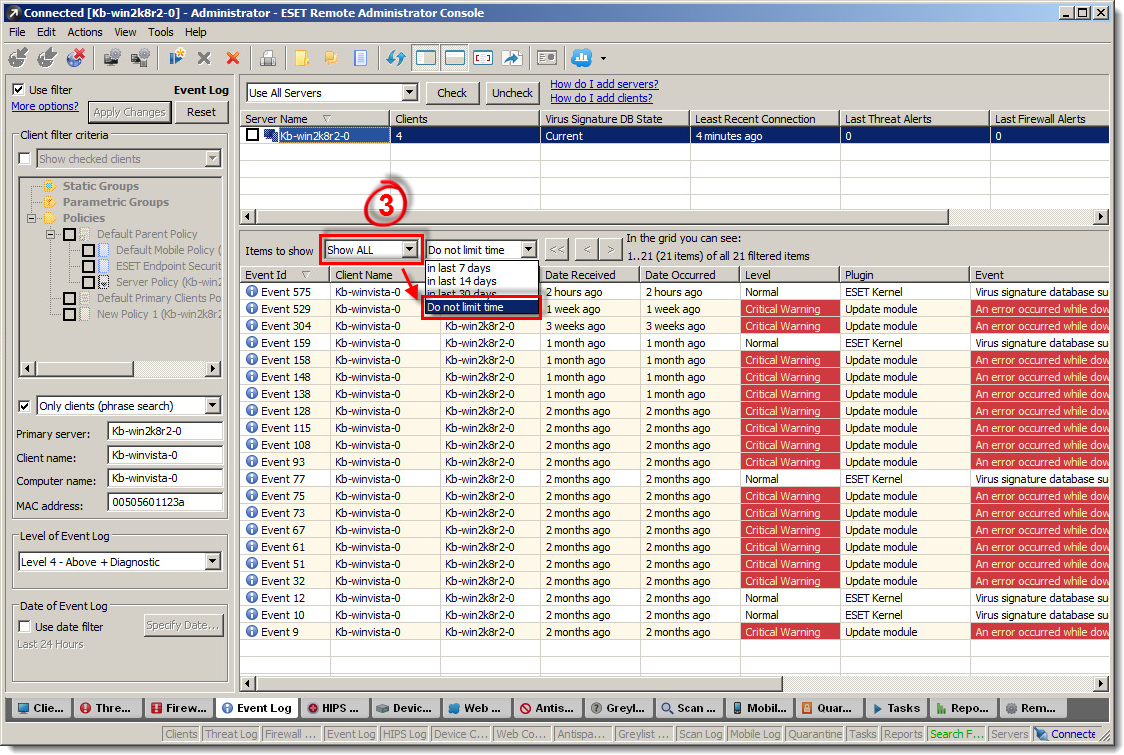 Figure 1-2
Click the image to view larger in new window
Verify that only log entries from your desired client workstations are being displayed.
Click File → Export.
Click Desktop on the left to set the location to save your log file. Type a name that includes the log type into the File name field, select Text (Tab delimited) from the Save as type drop-down menu and then click Save.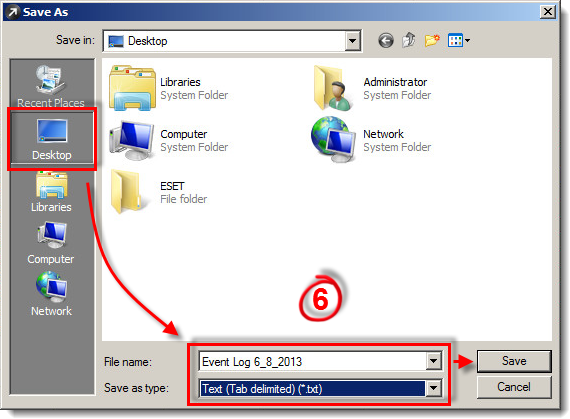 Figure 1-3
If you have not done so already, open a case with ESET Technical Support. Attach this file to an email reply to ESET Technical Support. ESET Technical Support will examine the log and respond as soon as possible with the recommended steps to resolve your issue.