Issue
New features in ESET PROTECT 8.0
Important information about upgrading to the latest version of ESET PROTECT
ESET PROTECT was released on December 9, 2020, and includes many new and improved features. ESET PROTECT is the new name and replaces the version 7 product ESET Security Management Center.
ESET also offers ESET PROTECT Cloud, see ESET PROTECT Cloud Online Help.
Solution
What's new | Upgrade instructions | System requirements | Known Issues | Support resources | Changelog
Current version:

9.0.10.3
---
What's new in ESET PROTECT 8
ESET PROTECT 8 is an enterprise-grade security management solution providing visibility, management, and reporting across all operating systems.
The list below contains information about the major changes in ESET PROTECT version 8.0:
New name—ESET Security Management Center 7.x has been renamed to ESET PROTECT 8.x. Products and services are evolving to cover new markets and customer needs, and we have decided to rename our solution to better accommodate the current and new capabilities that we have planned.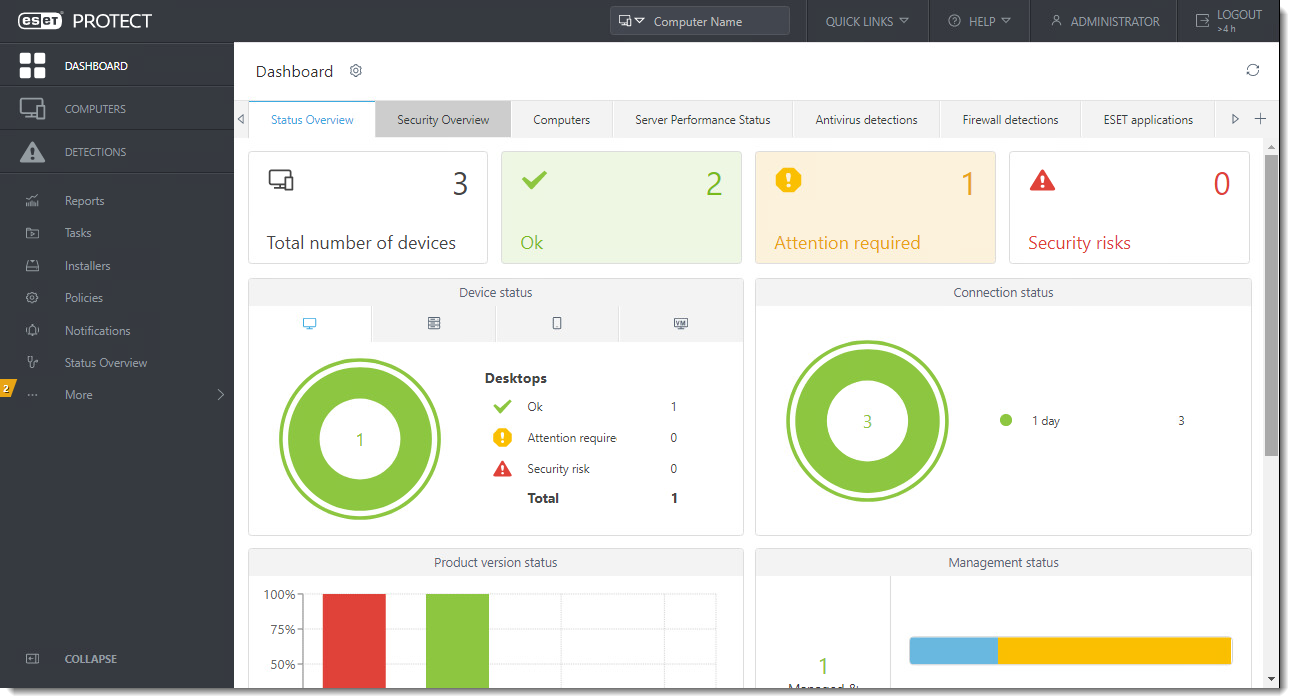 Supports using FileVault for macOS to deploy ESET Full Disk Encryption—ESET PROTECT 8.x fully supports FileVault, the full disk encryption solution that is native to macOS. With ESET PROTECT 8.x, you can now manage ESET Full Disk Encryption (EFDE) for Windows products and also use FileVault to install EDFE for macOS products to increase your organization's data security. For more information, visit the Online Help topic.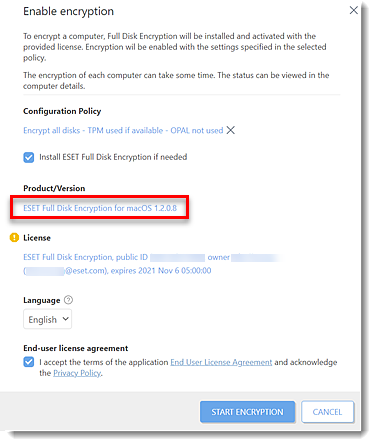 One-click deployment of ESET Dynamic Threat Defense (EDTD)—From the ESET PROTECT Web Console, administrators can deploy ESET Dynamic Threat Defense across multiple devices with only one click. EDTD provides another layer of security for ESET products by utilizing a cloud-based sandboxing technology to detect new, never before seen type of threats. For more information, visit the Online Help topic.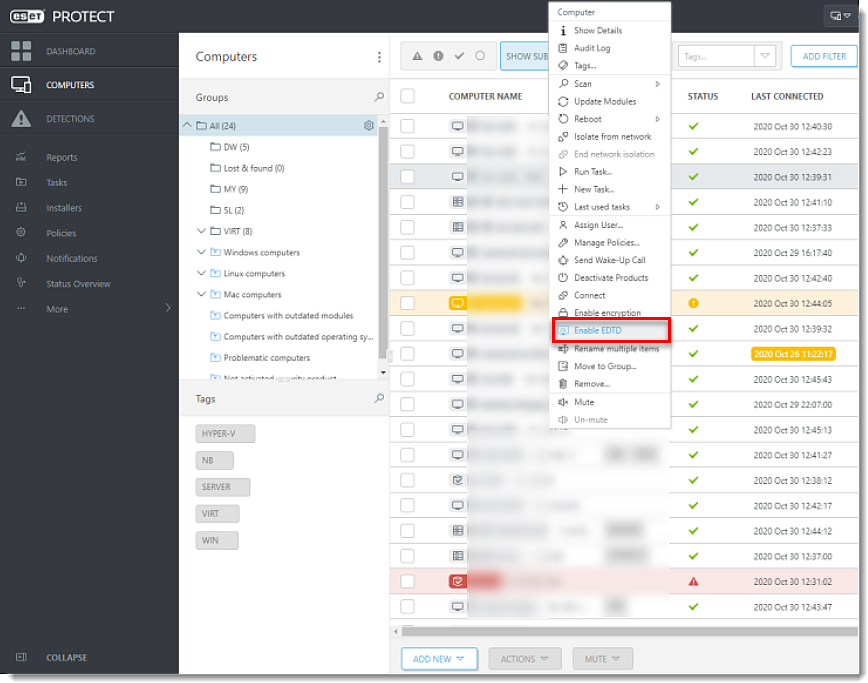 Audit Log—The new Audit Log screen contains the same information as the Audit log report, but also allows for convenient filtering of the displayed data. You can also directly view the filtered audit log for various Web Console objects by clicking the Web Console object and selecting Audit Log. For more information about the Audit Log, visit the Online Help topic.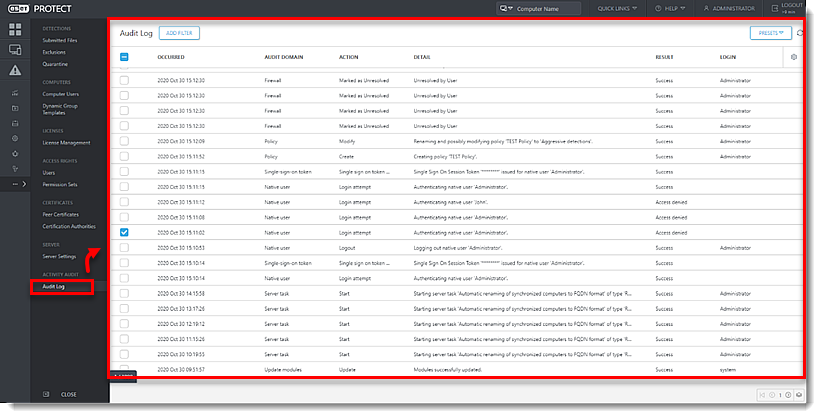 ---
System requirements and supported operating systems for ESET PROTECT 8.x
Click the appropriate link below to view details about system requirements and supported operating systems:
---
Known Issues
See the following Knowledgebase article for Known Issues in version 8 business products: Known issues for version ESET business products.
---
Frequently Asked Questions
How do I install ESET PROTECT 8?
See the following Knowledgebase content: https://support.eset.com/en/setup-eset-protect

ESET PROTECT 8 does not support upgrading from ERA 6.4 , only from ERA version 6.5 and later.

How to upgrade ERA version 5 or 6.5 or ESMC 7.x to ESET PROTECT version 8?
See the Online Help topic Upgrade, migration and reinstallation procedures.


Which version of ESET Remote Administrator (ERA) or ESET Security Management Center (ESMC) can you upgrade to?
Determine which version of ERA or ESMC you can migrate or upgrade to.
---
Available support resources
ESET provides support in the form of User Guides, fully localized application help, an online Knowledgebase, and chat, email or phone support if available in your region.
---
Changelog
Version 8.0.19.0 (hotfix)
Released: February 11, 2021
IMPROVED: An explanation message is displayed when trying to insert a bundle license that must be inserted to ESET Business Account first
FIXED: License synchronization fails after upgrade to ESET PROTECT 8.0 when multiple EBA/EMA accounts containing the same license are linked to ESET PROTECT
FIXED: Offline licenses are not displayed after upgrade from ESET Security Management Center to ESET PROTECT
FIXED: Issue with opening/reading PDF reports sent by email (base64-encoded)
FIXED: Synchronization of static groups could cause a crash during the removal of duplicates or end with errors about recreated computers
FIXED: Custom Apache configuration is overwritten during the upgrade
FIXED: In some cases, Detail in the "Audit Log" overlapping other lines
FIXED: Unwanted Timestamps in filenames of reports
FIXED: Various other bug fixes
Version 8.0.17.1 (hotfix)
Released: December 17, 2020
FIXED: Unable to log into the Web Console after the upgrade when a username or password contains special characters
Version 8.0.17.0
Released: December 9, 2020