ESET Shared Local Cache for Hyper-V
Download the ESET Shared Local Cache virtual appliance for Hyper-V
For more information, see section 5.2 Microsoft Hyper-V in the userguide.
ESET Shared Local Cache for VMware
The ESLC virtual appliance is formatted as a VMware compatible image intended primarily for use in local networks with a dedicated Shared Local Cache server. The OVA file contains a functional operating system, and is ready to use as soon as it is deployed. Follow the instructions in this section to deploy the OVA file using vSphere Client.
Download the ESET Shared Local Cache virtual appliance for VMware
 
Click the link above to download the ESLC OVA installer file.
 
Load the ESLC OVA file onto the virtual machine where you want to install it. 
 
Log into vSphere Client and in vCenter click File and then select Deploy OVF Template.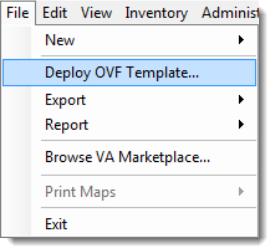 Figure 2-1
Click Browse and navigate to the image stored on your computer (local hard drive, network share, etc.), or enter a URL where the image is located.
 
Click Next to verify that you have selected the correct image to use.
 
Read and accept the End User License Agreement.
 
Follow the instructions on screen to complete installation. When you are prompted, specify the following information about your virtual appliance:

Name and Location—Specify a name for the deployed template and location where virtual machine files are stored.
 
Host / Cluster—Select the host or cluster on which you want to run the template.
 
Resource Pool—Select the resource pool within which you want to deploy the template.
 
Storage—Select a location to store virtual machine files.
 
Disk Format—Select the format that virtual disks will use.
 
Network Mapping—Select the network for the virtual machine to use. Ensure that you select the virtual machine network associated with the IP pool you created.

 

If you plan to manage ESLC using ESET Remote Administrator (ERA), make sure that you specify all required Properties values. Failure to enter these values can keep your virtual machine from starting or deny it the necessary certificates for communication with ERA.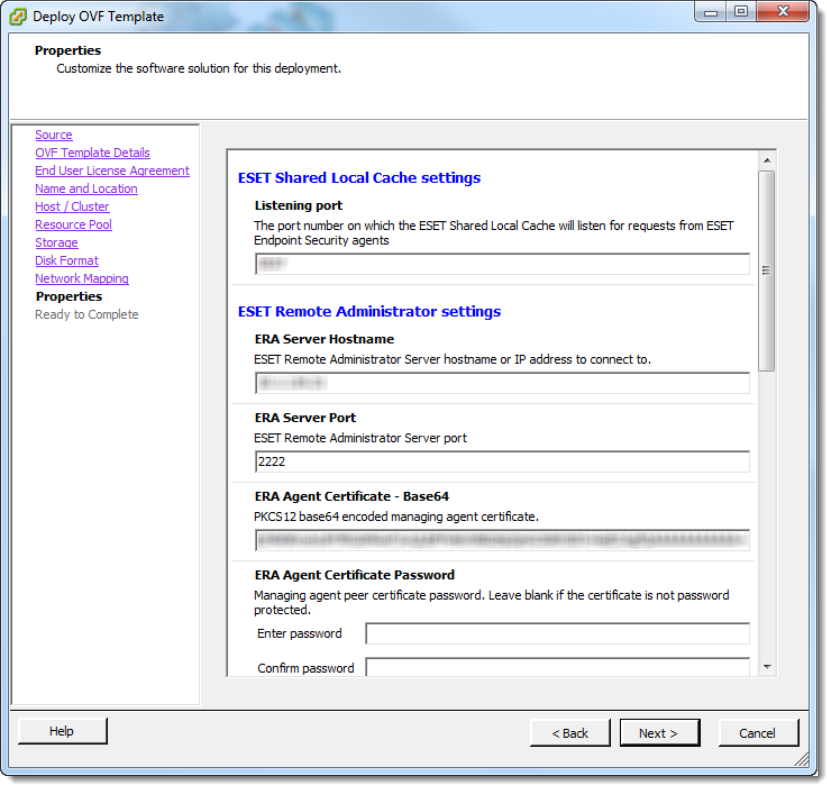 Figure 2-2
Click the image to view larger in new window
If you do not already have a Certificate Authority (CA) as well as certificates for your ESET Remote Administrator Agent (ERA Agent) and ESET Remote Administrator Server (ERA Server), use ESET Remote Administrator Web Console to create them. You will need access to your certificates in Base64 format as well as your certificate authority to complete installation of the ESLC OVA.
 
Review the deployment summary. Optionally, select the check box next to Power on after deployment. When you are finished, click Finish.
 
The deployment process will automatically create a virtual machine with the settings that you specified. This process can take several minutes depending on your system and network configuration.