If the ESET Authentication Server service will not start or if it starts and then stops immediately after installing and successfully configuring a zone and generating keys, follow the instructions below. Begin with Solution 1 and only continue to Solution 2 if the issue is not resolved.
Solution 1: Move Authentication server keys to public folder
The service will not start if a private key is stored in a folder with restricted access, such as the Desktop. To resolve this, store the key in a folder with sufficient privileges, such as the default location C:Program FilesESETESET Authentication Server. To do this, follow the instructions in the section "Configuring ESET Authentication Server". No additional settings should be required. If the service still will not start, continue with Solution 2 below.

Solution 2: Configure Local System account service
If ESET Authentication Server is installed on a workstation operating system such as Windows 7, and that machine is not part of a domain or subject to group policy management, it may need to be reconfigured after installation to use the "Local System" account instead of the "Network Service" account.
Click Start → Run, type services.msc and press Enter.
Locate "ESET Zone Authentication Service" in the list and double-click it to open the Properties dialog.
 
Select the Log On tab and then select the Local System account radio button.
 
Select the Allow services to interact with desktop check box and click OK.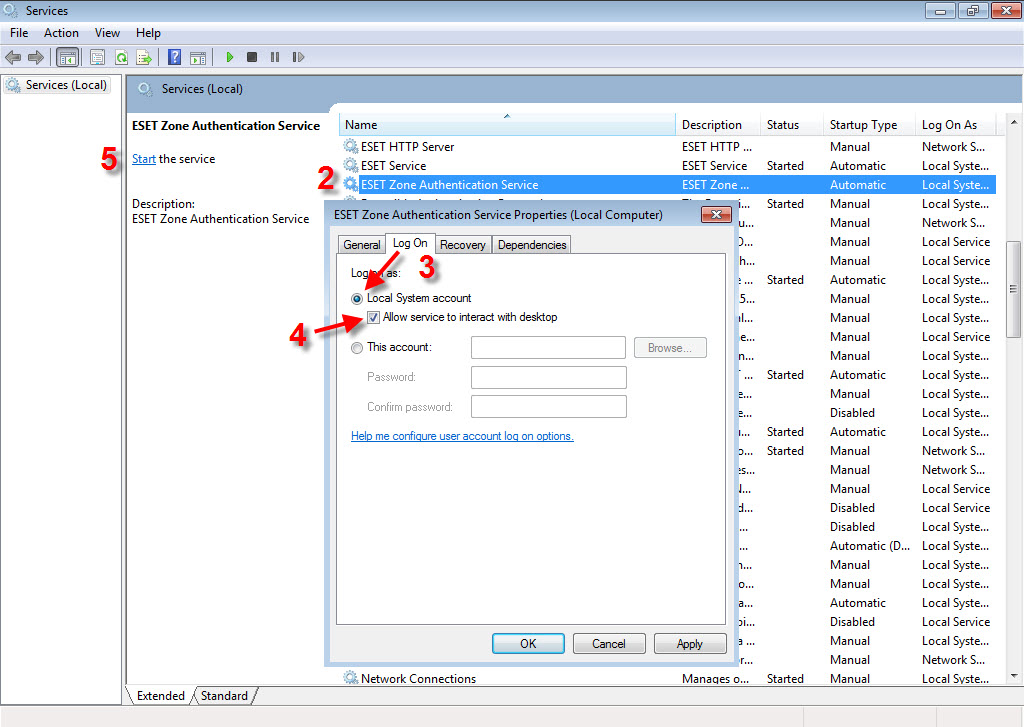 Figure 1-1
Start the service by clicking Start on the left (see Figure 1-1, above). 
 
If you are still unable to resolve your issue, contact ESET Technical Support.