Privileged users in ESET NOD32 Antivirus for Linux Desktop are users with permission to modify the program's settings. The Privileged users setting keeps unauthorized users from changing the configuration and maintains maximum protection, in accordance with your settings. You can set Privileged users during installation (choose Custom for the Installation Mode) or add them later in the program settings.
To add or remove Privileged users, follow the steps below:
Open the main program window by clicking the ESET icon in the notification area, or by clicking Applications → System Tools → ESET NOD32 Antivirus 4.

Press the F5 key on your keyboard or click the icon in the lower-left corner of the main program window to Activate advanced mode. Click Setup from the main menu and then click Enter application preferences....

Click User → Privileges and then select the users you would like to add/remove from the Users or Privileged Users lists. Click Add to add them to the Privileged Users list on the right or Remove to remove them. Click OK to return to the main program window.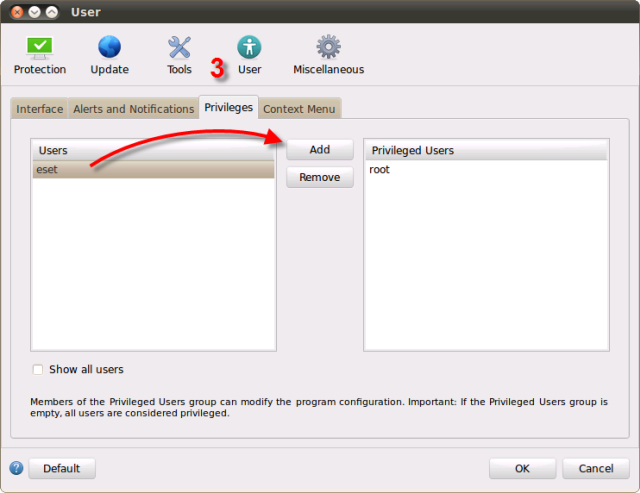 Figure 1-1