Click here to download the current installation package and manual for ESET Mail Security for Linux / FreeBSD.

ESET Mail Security installation for Kerio Connect
Confirm that the process esets_daemon is running (command /etc/init.d/esets_daemon start). It can be detected by entering the command:


ps -C esets_daemon

Open the administrator console and connect to the Kerio Connect.

Click Configuration → Content Filter → Antivirus, select Use an external antivirus and then choose "ESET NOD32 Antivirus 3 / 4" from the drop-down menu.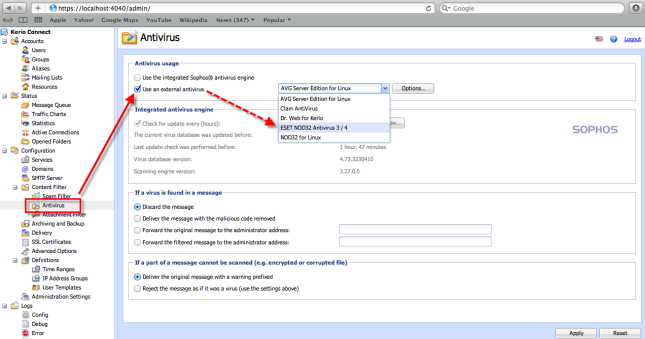 Figure 1-1
Click the image to view larger in new window
Click Options and check the routes to the following libraries: NOD32 (ESET Mail Security), the license file and the working directory temp. The standard routes are:
NOD32 for Linux
ESET NOD32 Antivirus for Kerio Connect 3-4

LicenseDirectory - /etc/esets/license
NodDll - /usr/lib/libesets.so
NodModulesPath - /var/lib/esets
TmpDirectory - /tmp

CfgDir - /etc/esets/
ModulesDir - /var/lib/esets/
ScannerLib - /usr/lib/libesets.so/
Threads - 4

Figure 1-2

Figure 1-3
Click Apply to save the changes.