I. Create a Group Policy Object that will turn off the Windows firewall or allow File and Print sharing
Download and install Microsoft Group Policy Management Console with Service Pack 1 on your server from the Microsoft Download Center:
Open the Microsoft Group Policy Management console.

Right-click Group Policy Objects and then select New from the context menu to create a new Group Policy Object.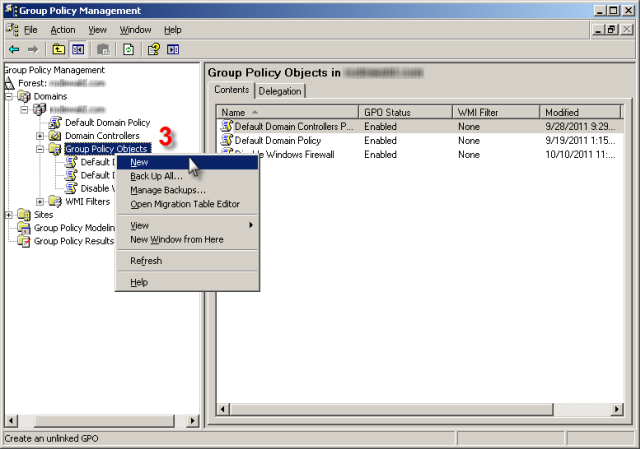 Figure 1-1
Click the image to view larger in new window
Enter the name of the object and click OK.
Figure 1-2
Right-click the new object and select Edit.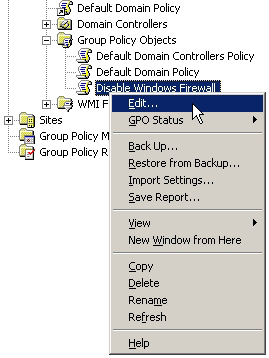 Figure 1-3
Expand Computer Configuration → Administrative Templates → Network → Network Connections → Windows Firewall and click Domain Profile. Right-click Protect all network connections

and select Properties from the context menu.
Select Disabled and click OK.
Figure 1-5
Right-click the domain and select Link an Existing GPO to create a link for the Group Policy Object (GPO). This will assure the use of the object in the chosen domain.



Figure 1-6

In the Select GPO window, select the Group Policy object that you just configured and click OK.


Figure 1-7
The setting will be applied to workstations in the chosen domain. Proceed to part II to apply additional items to your Group Policy from the Push Installation Requirements and Checklist.
Figure 1-8
---
II. Complete all the items on the Push Installation Requirements and Checklist
Use the Group Policy Management Console to apply the items in the Push Installation Requirements and Checklist below: